Altra Elites Compete at 2019 Boston Marathon
April 23, 2019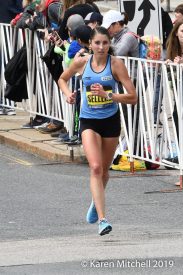 (Logan, UT – April 23, 2019) Four of Altra's elite athletes competed at the 2019 Boston Marathon. Sarah Sellers, Ian Sharman, Thomas Rivers Puzey and Aaron Fletcher represented Altra at the historic race.
Sellers, who was an overnight sensation after placing second at 2018's Boston, returned to take on the course again. This year, she finished 19th female with a 2:36:42 , achieving her goal of qualifying for the Olympic Trials with the A standard, which she now plans to focus her training toward for 2020.
Sellers ran in the Altra Boston Escalante Racer.
Sharman ran a Double Boston, which means he started at the finish line before the race, ran to the start line and then raced Boston. His official Boston finish time—after already running 26.2 miles—was 2:46:43. He plans to also do a Double Big Sur at the Big Sur Marathon on April 28.
Sharman ran all 52 miles of his Double Boston in the Altra Solstice.
Puzey's second time racing Boston came months after fracturing his spine in a hard fall. After a year of healing and minimal running, Puzey toed the line and finished in 2:23:06.
Puzey ran in the Altra Boston Escalante Racer.
Fletcher ran an enjoyable race for his first ever Boston experience, finishing with a time of 2:41:03. Next up for Fletcher is the Twilight 12k and Mayor's Midnight Sun Marathon, both in Anchorage, Alaska.
Fletcher ran in the Altra Torin 3.5 Mesh.
Stay up-to-date on all of Altra Elite and Red Team athletes by following the Team Altra Facebook page.
About Altra
While working at a running store, Altra founder Golden Harper was frustrated that modern running shoe technology caused poor running form and had not decreased running injuries. His passion to create a shoe that followed the science produced Altra's FootShape™ toe box, Zero Drop™ platform and Fit4Her™ female-specific shoes. Since its founding in 2011, Harper and co-founder Brian Beckstead have grown Altra from one to 30 shoe styles, winning multiple Editor's Choice awards and distribution in more than 60 countries. Join the conversation
@AltraRunning and #ZeroLimits on Twitter, Instagram and Facebook.
Media Contact: Colleen Logan, VP Marketing, [email protected]