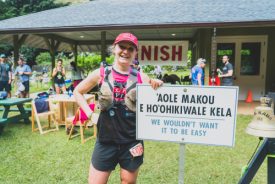 (Logan, UT – January 25, 2019) Altra Elite Sabrina Stanley won the women's race at the Hawaiian Ultra Running Team's Trail 100-Mile Endurance Run, commonly shortened to HURT 100. Fellow Elite Candice Burt grabbed fourth female, while Altra Red Athlete Trevor Fuchs took second overall.
Stanley won HURT 100 with a time of 28:28:06, besting her 2018 third place finish by more than an hour. Her big race for 2019 is to defend her title at Hardrock 100, which she won first female even though she was waitlisted until a few weeks prior to race day. Stanley ran in the Altra Lone Peak 4 despite being a max cushion fan for 100-milers.
"I don't know what kind of sorcery Altra put into the Lone Peak 4, but it's pure magic," Stanley said. "This was my first 100 in a shoe other than the Olympus, and I was certain that at some point I would trade out my Lone Peaks for my old go-to, but my feet never complained, so I left them on for the entire run. If you told me I'd run every mile of HURT in a non-max cushion shoe a week ago, I'd have laughed."
Following Stanley in fourth place was fellow Elite teammate Candice Burt with a time of 30:59:29, her fourth top five finish at HURT 100. Her plans for 2019 include racing the Ouray 100 Mile Endurance Run and the Bear 100. Burt tackled the challengingly muddy course in the max cushion Altra Olympus 3.
Altra's Red Team athlete Trevor Fuchs finished second overall with a time of 23:24:32. Fuchs returned to HURT 100 and improved his time by an hour after finishing fifth last year. His plans for 2019 include the legendary Hardrock 100 for the first time. Fuchs raced in the Altra King MT 1.5—a shoe specifically designed to tackle the wet, muddy terrain of Hawaii.
"At any race, the right gear is essential," Fuchs said. "At HURT 100, the wrong gear can mean a DNF and the right gear can only prolong the misery. Last year I went with the Altra King MT and they worked fabulously. This year I decided to stick with the same shoe and the new 1.5 version seems to not only drain better, but performed flawlessly in this year's muddy conditions. This is my favorite shoe for wet, muddy, slick conditions and I used it to train all winter on Utah trails."
Stay updated on Altra's Elite and Red Team athletes by following the Team Altra Facebook page.
About Altra
While working at a running store, Altra founder Golden Harper was frustrated that modern running shoe technology caused poor running form and had not decreased running injuries. His passion to create a shoe that followed the science produced Altra's FootShape™ toe box, Zero Drop™ platform and Fit4Her™ female-specific shoes. Since its founding in 2011, Harper and co-founder Brian Beckstead have grown Altra from one to 30 shoe styles, winning multiple Editor's Choice awards and distribution in more than 60 countries. Join the conversation @AltraRunning and #ZeroLimits on Twitter, Instagram and Facebook.
Media Contact: Colleen Logan, VP Marketing, clogan@iconfitness.com