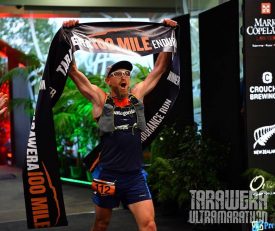 (Logan, UT – February 12, 2019) Altra's Elite athlete Jeff "Bronco Billy" Browning set a new course record at New Zealand's Tarawera Ultramarathon with a time of 16:18:54. This win was Browning's 19th 100-mile victory and 35th career 100-mile finish.
"This trip to New Zealand was so incredible," Browning said. "Tarawera Ultramarathon puts on a first-class event, embracing the cultural traditions of the Māori. It was such an honor to be able to witness the haka at the finish line—a type of ancient Māori war dance traditionally used on the battlefield, and even when groups came together in peace, a fierce display of the tribe's pride, strength and unity. An unexpected honor and humbling experience."
Browning won despite a major setback where he accidentally took the 50k course, resulting in a 40-minute detour and losing the lead to Camille Herron. He spent the rest of the day playing catch up, but was able to secure his lead at the very end.
"Even with my #UltraStupid mistake at mile 16—a 4.2-mile/40-minute detour—I wouldn't change it," Browning said. "The detour made for a hard fought battle with the women's winner and world record holder, Camille Herron. She didn't give up and charged the course, leading for more than 120km. After spending most of the day clawing back, I was blessed enough to secure my 19th 100-mile victory, 35th career 100-mile finish and set a new course record in 16 hours and 18 minutes."
Browning ran to victory in the Altra Duo, a max cushion, lightweight road shoe. Stay updated on Jeff Browning's accomplishments by following the Team Altra Facebook page.
About Altra:
While working at a running store, Altra founder Golden Harper was frustrated that modern running shoe technology caused poor running form and had not decreased running injuries. His passion to create a shoe that followed the science produced Altra's FootShape™ toe box, Zero Drop™ platform and Fit4Her™ female-specific shoes. Since its founding in 2011, Harper and co-founder Brian Beckstead have grown Altra from one to 30 shoe styles, winning multiple Editor's Choice awards and distribution in more than 60 countries. Join the conversation @AltraRunning and #ZeroLimits on Twitter, Instagram and Facebook.
Media Contact: Colleen Logan, VP Marketing, clogan@iconfitness.com