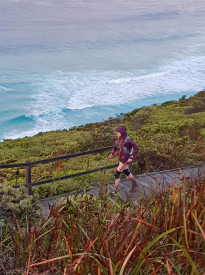 (Logan, UT) Altra's elite athlete Candice Burt won first female and third overall at the Delirious WEST 200-miler along Australia's Western Endurance Scenic Trail. Burt finished the race in 72 hours and 55 minutes, taking just two 5-minute naps during the entire race.
Delirious WEST is Australia's first point-to-point 200-mile race, so it's fitting that Burt—race director of three 200+ mile races in the US—would run and win. The inaugural race featured 35 competitors racing 200 miles of the brutal but world-famous Bibbulmun Track. The challenging course included many river crossings with kayaks, a ferry boat ride and miles of gorgeous backcountry, beaches and sand along Australia's southwestern coast.
Burt's shoe of choice was the Altra Timp 1.5—a high cushioned trail shoe made to effortlessly tackle ultramarathons.
"I finished the Delirious WEST 200-Miler," Burt said. "Immediately after I felt so wired from being up for three nights that I wasn't sure how I'd get some sleep, but sleep came easily. My legs actually didn't hurt too bad, there was some stiffness but not injury or pain. I was walking normally 24 hours after finishing. My feet were really good, albeit for a blister under my big toe from kicking roots. Thanks to Altra's Timp 1.5 for keeping my feet happy and f-you roots for biting my toe so many times! Overall, I'd say WOW, recovery has been far easier and faster than expected. I can't wait to do another 200+ mile race!"
Be sure to follow the Team Altra Facebook page to stay updated on Burt's accomplishments along with Altra's Elite and Red Team athletes.
About Altra
While working at a running store, Altra founder Golden Harper was frustrated that modern running shoe technology caused poor running form and had not decreased running injuries. His passion to create a shoe that followed the science produced Altra's FootShape™ toe box, Zero Drop™ platform and Fit4Her™ female-specific shoes. Since its founding in 2011, Harper and co-founder Brian Beckstead have grown Altra from one to 30 shoe styles, winning multiple Editor's Choice awards and distribution in more than 60 countries. Join the conversation @AltraRunning and #ZeroLimits on Twitter, Instagram and Facebook.
Media Contact: Colleen Logan, VP Marketing, clogan@iconfitness.com