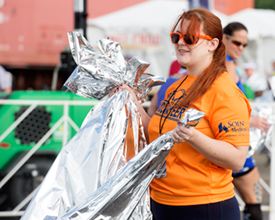 WRIGHT-PATTERSON AIR FORCE BASE, Ohio – The U.S. Air Force Marathon is looking to go green beginning in 2019 with environmental initiatives designed to minimize waste, improve conservation and give back to the Wright-Patterson community.
"This year our goal is to become certified as an environmentally-friendly event through the guidelines of the Council for Responsible Sport," said Rachael McKinney, Air Force Marathon events coordinator and Green Program lead. "We want to educate the community on what it means to reduce, reuse and recycle, and not just use those words. We aim to have an educational space inside the expo, but also we will be really focusing on our start/finish line area as it is the most trafficked area of our event and where the most waste occurs."
McKinney says that the marathon is working toward using recyclable heat sheets – the shiny Mylar blankets used to keep runners warm – at both the start and finish spaces, both to reduce the amount of clothing that runners will shed in the first mile but also to be collected, recycled and turned into a plastic bench that will be donated back to the community.
"We want to give back to our community by reducing waste and provide knowledge to our participants that they can carry home and make a difference in their community as well," McKinney said.
Instead of having trash bins located all over, the marathon will implement trash stations where trained volunteers will assist in sorting trash in order to reduce the amount sent to landfills. Additionally, all left-over food will be donated and compostable waste will be turned into compost for use in improving the local soil, according to McKinney. Other initiatives, such as utilizing signage either made from 100-percent consumable waste or 100-percent recyclable, is just part of a larger 3-year plan.
"This year we are focusing on the finish line and making that area environmentally friendly," McKinney said. "Next year, we will implement conservation-minded ideas onto the race courses as well as maintaining the finish line. And, moving into year three, we aim to make our expo an environmentally-friendly, green part of our event as well."
The move to go green is not unheard of in running events and has as much to do with the realization of an event's impact on its community as it does a yearning to do better.
"Large community events like the Air Force Marathon are wonderful in bringing people together; however, they are also very often not environmentally friendly," said Brandon Hough, Air Force Marathon race director. "The team had attended a few other events and noticed that, more than ever, there was a push to be more sustainable. The resources were there to help us begin our journey towards increasing our event's sustainability, so we dove in! This is a chance for us to make a big impact and teach others that we can all make a positive impact on our community and on the planet."
The 2019 Air Force Marathon is presented by Northrop Grumman, USAA and Boeing and is scheduled for Saturday, Sept. 21, 2019. The Sports & Fitness expo is scheduled for Thursday, Sept. 19, and Friday, Sept. 20. The Breakfast of Champions is scheduled for Friday, Sept. 20, from 8 to 10 a.m. and the Gourmet Pasta Dinner is scheduled for Friday evening, starting at 5:30 p.m. For more information about the Air Force Marathon go to www.usafmarathon.com.