ACTIVE Network Race Director of the Month: Doug Thurston
May 1, 2019
Doug Thurston has spent the past 35 years in the event-planning business and now leads the Big Sur International Marathon, one of the most well-known races in the world. By Jackie Veling
Doug Thurston began his career as a running journalist and race director 35 years ago, but he says planning events is still "an honor" for him.
"Entrants decide to pay their hard-earned money to do your race," he explains. "They have plenty of other options, including just running on their own for free. So we always try to organize races that are safe, efficient and beautiful and enjoyable experiences."
As Race Director/Executive Director of the Big Sur Marathon Foundation, Thurston is charged with organizing one of the most visually stunning marathons in the world—the Big Sur International Marathon—in addition to two other event weekends and an award-winning youth fitness program called Just Run.
Thurston himself has competed in over 600 road races, including 25 marathons, 32 triathlons and numerous mountain bike races and century rides.
"When I first started doing road races as a teenager, some 40 years ago, I remember paying attention to how they were organized," he says. "Was registration clear? Was the course accurate and well-marked? Was the awards ceremony efficient? And what was the overall feel and look of the event?"
Now, he uses that information to plan events that runners will remember for the rest of their lives.
Meeting Needs and Confronting Challenges
The Big Sur International Marathon shuts down California Highway 1 once a year in anticipation of thousands of runners from around the globe. Thurston and his team work hard to provide an enjoyable day from start to finish, with 2,000 volunteers from over 75 community non-profit groups lending a hand in creating the perfect experience.
"Our goal is to provide a beautiful race experience worthy of our magnificent course," he says.
He and his team also turn to the ACTIVE Network to help meet their third-party needs. Among their favorite tools is the Revenue Report, which lists all payments and transactions, as well as quick-glance summaries of total net income, refunds and processing fees.
Sally Smith, Registration Manager for the foundation, also notes the importance of ACTIVE's account managers, who are eager to lend a hand.
"I love our account managers for their responsiveness and willingness to solve issues that I can't," Smith explains. "They are pretty much available to me 24/7, and they keep me informed of new developments and features that make my job easier."
Last November, Thurston was faced with an unexpected challenge when the Camp Fire, the deadliest and most destructive wildfire in California history, caused heavy smoke and unhealthful air quality in the area, forcing the cancellation of the Monterey Bay Half Marathon the day before the race.
ACTIVE stepped in to help, working with his team to update email lists and reach out to 8,000 participants letting them know about the status change, and later, options for deferment or donation.
"More than 81 percent of entrants registered their choice," Thurston says. "A few months later, we began re-registering the folks who deferred to 2019. It was a multi-phase project, but ACTIVE worked hand-in-hand with us to provide excellent customer service."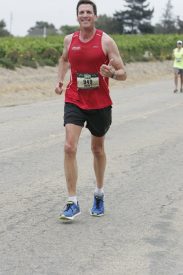 Putting Yourself in a Runner's Shoes 
For those who want to mirror Thurston's success, he encourages organizers to always put themselves in the shoes of the runner and focus on what the runner will be paying attention to during a race. 
"What do you want them to read, see, understand and experience from the time they first find out about your race, until they cross the finish line and beyond?" he says. "How can you give them the most beautiful experience possible?"
It can also be helpful to physically write down the important touch points throughout the race experience, then determine how much you can do with the resources you have available.
"And don't forget to keep asking questions of other race directors," Thurston concludes. "We want you to succeed. Great races lead to other great races, and we want all runners to enjoy every event so they will tell their friends and get more and more folks involved in this wonderful sport."