A Strong Men and Women's British Professional Line-Up to Battle It Out at IRONMAN 70.3 Swansea, Wales on Sunday whilst Spain Welcomes a Women's Professional Field to Vitoria-Gasteiz
July 12, 2023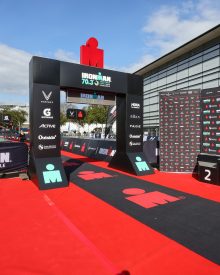 IRONMAN 70.3 Swansea's professional line-up sees 17 out of 27 athletes representing the United Kingdom. The British line-up features Emma Pallant-Browne, Nikki Bartlett, Rayner Lizzie, Joe Skipper, Andrew Horsfall-Turner and Thomas Davis
SWANSEA, Wales / VITORIA-GASTEIZ, Spain (July 12, 2023)/ENDURANCE SPORTSWIRE/ – The 2023 triathlon season continues in Europe this Sunday with men and women pros battling it out at IRONMAN 70.3 Swansea, and a professional women's only field racing at IRONMAN Vitoria-Gasteiz.
IRONMAN 70.3 Swansea
Following in the footsteps of Alistair Brownlee and Kat Matthews who took the win at the inaugural edition of IRONMAN 70.3 Swansea will be fellow Brits Joe Skipper, Andrew Horsfall-Turner, Emma Pallant-Browne, and Nikki Bartlett.
Both Pallant-Browne and Bartlett have started their season strongly, with Pallant-Browne coming off a second-place finish at IRONMAN 70.3 Andorra earlier this month and a victory at IRONMAN 70.3 Aix-en-Provence in May, whilst Bartlett took the win at IRONMAN 70.3 Marbella in the same month. Lizzie Rayner who came 6th in last year's edition will undoubtedly be looking to improve on this position with a podium finish
In the men's field, this will be Joe Skipper's first IRONMAN 70.3 race since his DNF at IRONMAN 70.3 Dubai in March 2021. However, he is no stranger to tasting victory on Welsh soil, having won last year's IRONMAN Wales event. Skipper will be looking to emulate last year's victory with the likes of Jesper Svensson (SWE), Justus Nieschlag (DEU) and Andrew Horsfall-Turner (GBR) looking to stop him. The men's field will also feature the likes of Cameron MacNair (ZAF), Jack Moody (NZL) and Thomas Davis (GBR) to name but a few. New to the professional scene this year and coming hot off a third place at IRONMAN 70.3 Staffordshire in June will be Benjamin Goodfellow who no doubt will be looking to make a statement in his first professional year.
This year will be the second edition of the event and is set to see almost 2 000 athletes taking part. This much anticipated Welsh event which reached sell out status last year will offer men's and women's Qualifying slots to the VinFast IRONMAN 70.3 World Championship in Taupō, New Zealand on December 14 – 15, 2024.
Here is the full 2023 IRONMAN 70.3 Swansea professional start list:
Bib Number
Last Name
First Name
Country Represented
1
Pallant-Browne
Emma
GBR (United Kingdom )
2
Bartlett
Nikki
GBR (United Kingdom )
3
Rayner
Lizzie
GBR (United Kingdom )
5
Anderbury
Rebecca
GBR (United Kingdom )
6
Gillies
Brooke
GBR (United Kingdom )
7
McDonald
Megan
GBR (United Kingdom )
9
Bendix Madsen
Sif
DNK (Denmark)
10
Skipper
Joe
GBR (United Kingdom )
11
Nieschlag
Justus
DEU (Germany)
12
Horsfall-Turner
Andrew
GBR (United Kingdom )
14
Svensson
Jesper
SWE (Sweden)
15
Davis
Thomas
GBR (United Kingdom )
16
MacNair
Cameron
ZAF (South Africa)
17
Moody
Jack
NZL (New Zealand)
19
Halliwell
Brett
GBR (United Kingdom )
20
Lloyd
Liam
GBR (United Kingdom )
21
Goodfellow
Benjamin
GBR (United Kingdom )
22
Grabowski
Michal
POL (Poland)
23
Munch
Adam
DNK (Denmark)
24
Hutchens
Jack
GBR (United Kingdom )
25
Palmer
Harry
GBR (United Kingdom )
26
Crudgington
Will
GBR (United Kingdom )
27
Benito López
Antonio
ESP (Spain)
28
Arentz
Finn
GBR (United Kingdom )
29
Munday
Will
GBR (United Kingdom )
30
Comhair
Dieter
BEL (Belgium)
31
Steenberg
Scott
DNK (Denmark)
The Spain's Basque Country welcomes athletes to the fourth edition of IRONMAN Vitoria-Gasteiz. With over a decade of triathlon heritage, Vitoria-Gasteiz is a well-known triathlon playground offering astonishing natural landscapes, rich culture, unforgettable Basque gastronomy, and the most passionate and vibrant fans. The event will see over 1 500 athletes take part, including small women's professional field who will be fighting for a piece of the $50,000 prize purse and a chance to secure a slot for the 2023 VinFast IRONMAN World Championships in Kailua-Kona, Hawaii later this year.
The professional women's field may be small but promises to be exciting, with the event broadcast live on IRONMAN.com/LIVE, IRONMAN YouTube and IRONMAN Facebook channels. The professional battle will see home favourite Gurutze Frades Larralde (ESP) taking on Els Visser (NLD), and Svenja Thoes (DEU), who unfortunately had to pull out of Mainova IRONMAN European Championship Frankfurt just a few weeks ago. The last time Frades Lrralde took to an IRONMAN start line; she produced a memorable performance claiming victory at last year's IRONMAN Cozumel. She will be looking to replicate that kind of performance again on her home-turf this year.
Here is the full 2023 IRONMAN Vitoria-Gasteiz professional start list:
| | | | |
| --- | --- | --- | --- |
| Bib Number | Last Name | First Name | Country Representing |
| 1 | Frades Larralde | Gurutze | ESP (Spain) |
| 2 | Visser | Els | NLD (Netherlands) |
| 5 | Thoes | Svenja | DEU (Germany) |
| 6 | Tondeur | Alexandra | BEL (Belgium) |
| 8 | Alberdi | Helene | ESP (Spain) |
| 9 | Uderstadt | Jana | DEU (Germany) |
| 11 | Iemmolo | Julie | FRA (France) |
| 12 | Moriarty | Fiona | IRL (Ireland) |
| 15 | Vesterby | Michelle | DNK (Denmark) |
| 17 | Karlsson | Mirella | SWE (Sweden) |
| 18 | Dahan | Carla | FRA (France) |
All of this year's race day images, video content and athlete quotes for IRONMAN 70.3 Swansea will be uploaded here throughout race day. IRONMAN Vitoria-Gasteiz race day content will be uploaded here.
For more information about IRONMAN 70.3 Swansea, please visit https://www.ironman.com/im703-swansea and https://www.ironman.com/im-vitoria for more information on IRONMAN Vitoria-Gasteiz.
For any media related inquiries, please email emeapress@ironman.com and for race day media registration, fill in the media credentials form here.
[ENDS]
About The IRONMAN Group
The IRONMAN Group operates a global portfolio of events that includes the IRONMAN® Triathlon Series, the IRONMAN® 70.3® Triathlon Series, 5150™ Triathlon Series, the Rock 'n' Roll® Running Series, IRONKIDS®, World Triathlon Championship Series, premier running events including the Standard Chartered Singapore Marathon™ and City2Surf®, UTMB® World Series events including the Canyons Endurance Runs, Tarawera Ultra and Ultra-Trail Australia™, Epic Series™ mountain bike races including the Absa Cape Epic®, road cycling events including Haute Route®, and other multisport races. The IRONMAN Group is the largest operator of mass participation sports in the world and provides more than a million participants annually the benefits of endurance sports through the company's vast offerings. Catering to the full athlete experience, the company portfolio also includes FulGaz® virtual cycling, the most realistic indoor riding experience connected fitness application aimed at preparing athletes for real-world events. Since the inception of the iconic IRONMAN® brand and its first event in 1978, athletes have proven that ANYTHING IS POSSIBLE® by crossing finish lines around the world. Beginning as a single race, The IRONMAN Group has grown to become a global sensation with hundreds of events across 55+ countries. The IRONMAN Group is owned by Advance, a private, family-owned business. For more information, visit www.ironman.com/about-ironman-group.
About Advance
Advance is a private, family-held business that owns and invests in companies across media, entertainment, technology, communications, education and other promising growth sectors. Our mission is to build the value of our companies over the long-term by fostering growth and innovation. Advance's portfolio includes Condé Nast, Advance Local, Stage Entertainment, The IRONMAN Group, American City Business Journals, Leaders Group, Turnitin, 1010data and Pop. Together these operating companies employ more than 17,000 people in 29 countries. Advance is also among the largest shareholders in Charter Communications, Warner Bros. Discovery and Reddit. For more information visit www.advance.com.