9th Campagnolo GFNY World Championship Set to Make History
May 15, 2019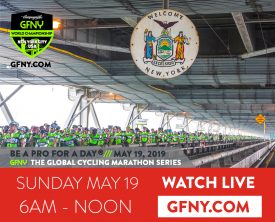 On Sunday, May 19, a field of 5000 cyclists, comprising of professionals, elites and weekend warriors from 95 countries will take part in the ninth annual GFNY World Championship from George Washington Bridge.
NEW YORK CITY, May 15, 2019 – The ninth annual international Campagnolo GFNY World Championship NYC represents a culmination of a season of 19 GFNY World races that were held around the globe.
Race Day
At GFNY, every rider gets to Be a Pro For a Day®. On Sunday, May 19, riders will take on a challenging 100-mile route with 8,500 feet of climbing. Starting on New York City's iconic George Washington Bridge at 7 am, the race peloton will travel on a scenic course that extends up to New York's Bear Mountain State Park, then returns southbound, to a festive finish line in Fort Lee, NJ. 
15% of the field takes on the non-competitive 50-mile GFNY BEAR, a test that many riders use as a stepping-stone for tackling the GFNY 100 the following year.
"This year's race for the Campagnolo GFNY World Championship crown will be a global contest," said Lidia Fluhme, President of GFNY. "Top contenders from around the world will toe the line, and we've made the race even more fierce by offering a $10,000 cash prize to the first rider to break 4hours. A professional live broadcast at gfny.com that streams to Youtube and Facebook will enable fans to follow the race for the title – and the hunt for breaking4."
Breaking 4
"Over the past eight years, no racer has gone below 4h15m. Looking toward the ninth edition, we started wondering whether breaking 4 hours is possible on the Campagnolo GFNY World Championship course. The $10,000 cash award to the first rider who breaks 4:00hrs will provide another dimension to race tactics," said Uli Fluhme, CEO of GFNY.
The most recent fastest times have not gone below 4hrs15min (2015), 4hrs30min (2016), 4hrs:28min (2017) and 4hrs:22min (2018).
WOMEN'S RACE
5-time GFNY NYC winner and 12-time GFNY Champion Camila Cortes from Colombia will be followed by a film crew for their documentary Road To 13. That won't deter her competition from trying to dethrone her. The 2018 runner-up, Jill Patterson, took away valuable lessons from her GFNY premiere last year and is ready to close the small gap. Other contenders include Janine Meyer (2018 GFNY European Championship / GFNY Deutschland Champion), Marcia Barrios (2018 GFNY Panama Champion), Flavia Lorenzetti (2019 GFNY Uruguay Champion) and Juana Fernandez Veras (2019 GFNY Republica Dominicana Champion).
MEN'S RACE
This year's race for the Campagnolo GFNY World Championship crown is shaping up to be the most exciting GFNY NYC ever: more GFNY World Champions will be lining up on the George Washington Bridge on May 19th than any year before.
While defending champion Mike Margarite (NYC) takes a year off from GFNY, 2017 GFNY World Champion and 2018 runner-up, Ricardo Pichetta (Italia), returns and has shown great form at GFNY Italia, where he dominated on the challenging course over strade bianche just a few weeks ago. He also won GFNY Portugal 2018. The former pro is a race favorite in any GFNY peloton.
Carlos Trujillo (Colombia) gained a huge boost of confidence when he triumphed over a field of 2500 at the 2019 GFNY Latin America Championship in Bogota, Colombia. He's never shy to grab a race by the horns, but might bank on having team members this year who can protect him until the unrelenting hills of Rockland turn the race into a mano a mano.
NYC youngster, Bill Ash, is notorious for putting his nose in the wind from the gun. Last year, a crash early in the race on wet roads let to a mechanical that ended his solo and any chances for a win. In 2017, he had a chain suck while leading the race up Bear. With luck on his side in 2019, he's one of NYC's best assets to keep the crown in town.
Pro racer and GFNY Asia Champion, Aiman Cahyadi, is taking on NYC for the first time. The soft-spoken Indonesian prefers to let his legs do the talking. He's used to racing in oppressing heat, so cooler NYC conditions might be an unwanted challenge for him. But if it's a humid day, and he's with the leaders at the bottom of Dyckman, all bets are off.
German Jochen Wallenborn arrives in NYC as the reigning GFNY Europe Champion. He's new to the GFNY circuit but a veteran racer.
Mexican Fernando Arroyo showed his climbing genes when winning GFNY Monterrey 2019 with its mountaintop finish. His dad, Miguel, was Greg Lemond's lieutenant during grand tours. Look out for him to initiate the first selection on Bear Mountain.
Cedric Haas' (France) ride up Bear Mountain in 2018 was so impressive that the race jury checked his bike for a motor at the finish. That said, he seemed to have burned the gas a bit too soon and ended up in the chase group just out of the top 10. He's back to give the race another shot.
Race day coverage
GFNY are working with a professional crew to deliver a high-level race day broadcast starting at 6am EST on gfny.com, Facebook and Youtube.
Ensuring a Fair Race
Since 2012, GFNY administers in- and out of competition doping controls that ensure a fair competition. GFNY was the first amateur event to hold out-of-competition controls (=not on race day). These controls are critical to serve the element of surprise. 
GFNY will conduct checks for motors on bikes at the start and have a parc fermé at the finish to test bikes of the top finishers.
GFNY Welcome Zone & Café 
The GFNY Welcome Zone & Café will serve as a gathering place for riders before or after a ride on the GFNY course. It will be open from Wednesday, May 15 to Saturday, May 18 from 8am – 3pm each day at the GFNY Expo Village in Fort Lee (PIP Park, Fort Lee NJ).
The GFNY Café and Welcome Zone will also be open on race day, Sunday, May 19 from 8am – 6pm to welcome spectators, and families and friends of GFNY cyclists.
There is a full daily schedule of activities at the GFNY Welcome Zone, from pre-race GFNY Group Rides, a GFNY barbecue, to mechanical service.
NYC Bike Expo
This year, the ninth annual New York City Bike Expo moves to Fort Lee, New Jersey. Located in PIP Park, less than 1 mile from George Washington Bridge, the expo will be open from May 16-18, 2019. Expo hours are 12pm-7pm on Thursday & Friday and 9am-5pm on Saturday. 
GFNY World events, GFNY Shop, GFNY Sunglasses, race sponsors and other vendors will be on hand to showcase their latest offerings. The expo is a stand-alone event organized by GFNY that is open to the public and draws nearly 15,000 visitors.
NEW GFNY Cycling Apparel
Produced in the world's leading cycling apparel factory using fabrics that react to your body and wick away moisture from your skin. GFNY apparel is 100% made in Italy. This year, GFNY performance collection has expanded into brand new products such as extra lightweight zipper-less jerseys and mesh cycling caps for hot weather, seamless arm and leg warmers and a complete set of rain and winter gear.
GFNY Sunglasses
GFNY Sunglasses are the perfect complement to GFNY Apparel. 100% Made in Italy handcrafted with every detail in mind and technical innovation. 
All GFNY Sunglasses are now available with photochromic lenses in NYC green, Colombia and Italy themed styles. The all-new frames are made of Rilsan, an ultra lightweight, high-performance, transparent plastic that is 58% bio-based. It combines GFNY style with an eco-friendly ethos.
GFNY 3×2019 and 10x medals
GFNY now offers two types of Multi-Finisher medals. The first is a '3-timer 2019' medal that awards riders who finish three GFNYs in 2019.
The second is an "All-Time" medal that awards riders who have accumulated 10, 20, 30, and 40 GFNY finishes, ever. Each medal has a letter of GFNY and upon completing 40 GFNYs, a rider can complete the set of G-F-N-Y. The multi-medal series also contains GFNY's slogan: "Be a Pro For a Day".
GFNY Coffee
GFNY Coffee is made with 100% prime grade pure Colombian beans. It is roasted and steel cut ground in NYC in a way that honors Colombia's rich coffee heritage. GFNY Coffee will be available at the NYC Bike Expo and at the GFNY Welcome Zone.
GFNY Rider Technology Platform
Gfny.cc is GFNY's proprietary technology platform. GFNY.cc hosts riders' accounts, enables every rider who has ever taken part in a GFNY World event since the inaugural GFNY, the ability to see past GFNY results, and check progress to multi-finisher medals like the 10x medal or the 3×2019 medal. Riders can also check their qualification status for GFNY's Racer Corral and register for any and every GFNY World race. Registration is available in 30 languages.
GFNY WORLD events bring GFNY Cycling to other fantastic destinations. A similar rider and family experience and a common set of rules are the foundation of GFNY. Riders have a chance to qualify for the elite racer corral at the GFNY World Championship in NYC by placing in the top 10% of their age group at a GFNY World race and in the top 20% at regional and world championship races.
About GFNY
GFNY is the global cycling marathon brand with events held in NYC, Argentina, Bali-Indonesia, Brazil, Chile, Colombia, Costa Rica, Ecuador, Italy, Jerusalem-Israel, Indonesia, Cozumel-Mexico, Monterrey-Mexico, Panama, Philippines, Portugal, República Dominicana, Santa Fe-USA and Uruguay.
Riders get to BE A PRO FOR A DAY by competing against others, themselves and the clock in a personal endurance challenge.
At all GFNY events, riders have the chance to qualify for the elite racer corral at the GFNY World Championship in NYC by placing in the top 10% (20% at regional championships) of their age group.
Campagnolo GFNY World Championship NYC
The 10th annual Campagnolo GFNY World Championship New York will be held on May 17, 2020. The race features the world's most international peloton with riders from over 90 countries. Athletes take on a challenging 100-mile route from NYC to Bear Mountain to Fort Lee to compete against each other, the clock and themselves in a personal endurance challenge.
The official GFNY website is: www.gfny.com.
Find the complete GFNY media kit HERE.
GFNY World 2019/20 calendar
19 May GFNY WORLD CHAMPIONSHIP NYC
23 June GFNY SANTA FE
7 July GFNY COSTA RICA  
4 August GFNY BRASIL
8 September GFNY EUROPE CHAMPIONSHIP PORTUGAL
22 September GFNY PHILIPPINES
12 October GFNY ECUADOR
20 October GFNY PANAMA
3 November GFNY ARGENTINA
10 November GFNY COZUMEL-MEXICO 
24 November GFNY CHILE
23 February 2020 GFNY BALI
8 March 2020 GFNY MONTERREY
15 March 2020 GFNY SOUTH AMERICA CHAMPIONSHIP URUGUAY
22 March 2020 GFNY COLOMBIA
29 March 2020 GFNY ITALIA
29 March 2020 GFNY REPUBLICA DOMINICANA
24 April GFNY MIDDLE EAST – AFRICA CHAMPIONSHIP JERUSALEM
Further Material for Media Use
GFNY NYC 2018 photos: here
GFNY NYC 2018 race video: here
GFNY NYC 2019 promo video [English]:
GFNY NYC 2019 promo video [Spanish]:
GFNY World calendar graphic: here
Previous GFNY press releases: here 
GFNY photo archive (credit SPORTOGRAF): here
Media Contact
Gran Fondo New York Inc.
Emma Bishop, emma@gfny.com
Uli Fluhme, uli@gfny.com