8th annual GFNY NYC targets new heights in live broadcasting
May 11, 2018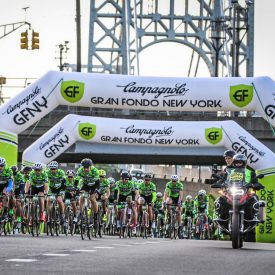 GFNY extends its live broadcasting at the 2018 Campagnolo GFNY World Championship in NYC
NEW YORK CITY, May 11, 2018 – GFNY NYC is set to reach new heights in race day coverage with a live broadcast of the World Championship event on Sunday, May 20.
In 2016, GFNY started broadcasting the Campagnolo GFNY World Championship through Facebook Live. The technology was just a few weeks old, and despite its limitations, feedback was highly positive, with viewers able to interact online in real-time.
In 2017, GFNY again used Facebook Live as a tool to provide viewers a real-time broadcast. GFNY produced an extended schedule, from pre-race interviews up to the Live feed on race day itself with multiple teams supporting each other to prevent dead spots in coverage.  It was not a perfect solution and despite Facebook Live's improvements, the organic reach of the now ubiquitous Facebook Live had dropped.
"Up to this point, the advantage of live streaming online has been the ability to interact in real-time with the GFNY community around the world," says Alex Bruskin, of Sprocket Films, GFNYs video producer.
"A traditional TV broadcast only reaches a passive, time-constrained, geographically limited audience.  Live streaming makes each GFNY race a global event, since we know we're reaching our fans, regardless of where they live."
For race weekend of May 17-20, 2018, GFNY is setting up a more traditional live broadcast. The goal is to improve viewer experience by having one dedicated feed that will be hosted on gfny.com but will also feed into other platforms like YouTube Live.
"This new approach means a certain amount of interactivity with the viewer is lost but we hope the higher quality makes up for it. gfny.com will be the easiest go-to solution to watch the race," explains GFNY CEO, Uli Fluhme.
Fluhme understands that the ultimate challenge lies in having a solid cellular connection along 100 miles of a racecourse.
"You only have to travel 30 miles away from Manhattan to experience dead spots, especially when you are on the move like we are during the race," comments Fluhme. "Until cellular networks expand to these areas, we would need a litany of so-called "COWs" (cells on wheels, mobile cellular towers). This is obviously not practical or financially feasible. But even adding a few of them in strategic spots like on top of Bear Mountain could help."
GFNYs ultimate goal is to live broadcast all of its races for free on an interactive online platform.
"We've had the flexibility to react and adapt the live stream in real time and give our audience what they want to see. This year, we're hoping to preserve that adaptability while taking the quality up a notch.  Technology is changing so fast, each year is an experiment in its own right, but preserving the connection with the fans is our first priority," ends Bruskin.
About GFNY
GFNY is the global cycling marathon brand with events held in NYC, Bali-Indonesia, Brazil, Chile, Colombia, Costa Rica, Dominican Republic, Germany, Samosir-Indonesia, Jerusalem-Israel, Cozumel-Mexico, Monterrey-Mexico, Panama, Philippines, Poland and Uruguay.
Riders get to BE A PRO FOR A DAY by competing against others, themselves and the clock in a personal endurance challenge.
At all GFNY events, riders have the chance to qualify for the elite racer corral at the GFNY World Championship in NYC by placing in the top 10% (20% at regional championships) of their age group.
Campagnolo GFNY World Championship NYC
The 8th annual Campagnolo GFNY World Championship New York will be held on May 20, 2018. The race features the world's most international peloton with riders from over 90 countries. Athletes take on a challenging 100-mile route from NYC to Bear Mountain to Fort Lee to compete against each other, the clock and themselves in a personal endurance challenge.
The official GFNY website is: www.gfny.com.
GFNY World 2018 calendar
20 May GFNY WORLD CHAMPIONSHIP NYC
27 May GFNY POLSKA-GDYNIA
5 August GFNY BRASIL
2 September GFNY EUROPE CHAMPIONSHIP DEUTSCHLAND 
2 September GFNY ASIA CHAMPIONSHIP INDONESIA-SAMOSIR
9 September GFNY PORTUGAL
21 October GFNY PANAMA
11 November GFNY COZUMEL-MEXICO 
25 November GFNY CHILE
GFNY World 2019 calendar
20 January GFNY PHILIPPINES
25 February GFNY BALI
17 March GFNY MONTERREY
17 March GFNY URUGUAY
24 March GFNY LATIN AMERICA CHAMPIONSHIP COLOMBIA
7 April GFNY REPUBLICA DOMINICANA
3 May GFNY MIDDLE EAST – AFRICA CHAMPIONSHIP JERUSALEM
7 July GFNY COSTA RICA