7th Annual International Campagnolo GFNY World Championship rolls out this Sunday May 21, 2017
May 17, 2017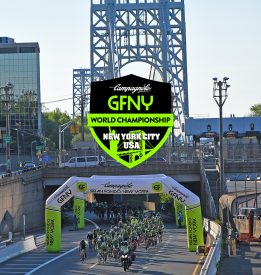 5000 riders from 97 countries head to New York City for the world's most international bike race
NEW YORK CITY, May 17, 2017 – The seventh annual international Campagnolo GFNY World Championship NYC rolls out this Sunday, May 21, 2017. The founding race of the GFNY Global Cycling Marathon Series, the Campagnolo GFNY World Championship represents the pinnacle of GFNY World events. This year, 5000 riders from 97 countries will assemble in New York City to test themselves at the World Championship event.
"GFNY World is growing to over 20 races by 2018. Our goal is to have a GFNY near every road cyclist in the world," says Lidia Fluhme, co-founder and President of GFNY.
GFNY is where everyone gets to Be a Pro For a Day®. Each year the race draws a spectrum of elite racers, celebrities and enthusiasts including CEOs, firefighters, teachers, persons with disabilities and many others passionate about the sport of cycling. It is a race where elite racers challenge for glory but it is also an endurance challenge about pushing limits, achieving personal goals and creating stories.
Campagnolo GFNY World Championship attracts celebrities from all areas of sports and television. This year former Tour de France Stage winner, Mexican Raul Alcala, Nelson Vails, retired road and track cyclist, NFL stars Amani Tooner, and Tony Richardson, former Brazilian F1 driver Luciano Burti, and actor Sean Ringgold to name a few line up in the VIP corral.
Race Day
On Sunday, May 21, riders will take on a challenging 100-mile route with 8,500 feet of climbing starting on the New York City side of the iconic George Washington Bridge at 7 a.m. and wind through the course in New Jersey and New York State that extends up at New York's Bear Mountain State Park, with the finish line in Fort Lee, NJ. 15% of the field takes on the non-competitive 50-mile GFNY BEAR, a test that many riders use as a stepping-stone for tackling the GFNY 100 the following year.
All the action will be broadcast LIVE on Facebook from 06:00AM to 16:00PM EST on www.facebook.com/granfondony.
"This year's race for the Campagnolo GFNY World Championship crown is set to be more competitive than ever," said Uli Fluhme, CEO of GFNY. "NYC vs. Colombia was the story of last year's race and it continues this year. However, a number of strong Brazilian, French, Dominican and Mexican contenders will racing GFNY NYC for their first time this year. This will be the most heavily contested GFNY World Championship race today, it's going to be very exciting!"
One of the places to catch all the action and cheer on friends and family is Bear Mountain. Arrive early and watch riders beat the mountain between 8:30am – 11:30am near Bear Mountain Inn.  The GFNY Welzome Zone & Café in Fort Lee will provide the perfect Campagnolo GFNY World Championship festive atmosphere to welcome riders home, recover and refuel.
Podium finishers overall as well as in all age groups and team categories will take home prizes. The overall winners receive a GFNY De Rosa bike with Campagnolo components valued at $13,000.
Ensuring a Fair Race
Since 2012, GFNY administers in- and out of competition doping controls that ensure a fair competition. GFNY was the first amateur event to hold out-of-competition controls (=not on race day). These controls are critical to serve the surprise element. GFNY CEO Fluhme is also a Board Member of USA Cycling Federation's Anti-Doping Committee.
Like last year, GFNY will also do checks for motors on bikes at the start and finish.
Fund Raising
All funds donated or raised for the GFNY Community Fund via More Than Sport in the build-up to the Campagnolo GFNY World Championship will be going towards making a difference in the communities that neighbor the GFNY course and organizations that also support GFNY and GFNY riders.
GFNY Café & Welcome Zone
New for 2017, the GFNY Welcome Zone & Café will be open from Thursday, May 18 to Saturday, May 20 from 8am – 3pm each day at the GFNY Finish Village in Fort Lee. It will serve as a gathering place for riders before or after a ride on the GFNY course. The GFNY Café and Welcome Zone will also be open on race day, Sunday, May 21 from 8am – 6pm to welcome spectators, and families and friends of GFNY cyclists.
NYC Bike Expo
The seventh annual New York City Bike Expo will take place on May 19-20, 2017 from 11am-7pm (Friday) and 11am – 6pm (Saturday) at Penn Pavilion, 401 Seventh Ave between 32nd St & 33rd St (401 Seventh Avenue). GFNY World events, race sponsors and other vendors will be on hand to showcase their latest offerings. The expo is a stand-alone event organized by GFNY that is open to the public and draws nearly 15,000 visitors.
GFNY WORLD events bring GFNY Cycling to other fantastic destinations. A similar rider and family experience and a common set of rules are the foundation of GFNY. Riders have a chance to qualify for the elite racer corral at the GFNY World Championship in NYC by placing in the top 10% of their age group at a GFNY World race and in the top 20% at regional championship races.
The official GFNY website is: gfny.com.
Find the complete GFNY media kit HERE.
About GFNY
GFNY is the global cycling marathon brand with events held in NYC, Argentina, Brazil, Chile, Colombia, Germany, France, Indonesia, Italy, Malaysia, Mexico and Uruguay.
Riders get to BE A PRO FOR A DAY by competing against others, themselves and the clock in a personal endurance challenge.
GFNY World calendar
2017
June 25 GFNY Europe Championship Mont Ventoux
August 6 GFNY Brasil
September 3 GFNY Deutschland
September 3 GFNY Asia Championship Indonesia
November 12 GFNY Cozumel-Mexico
November 26 GFNY Chile
2018
4 February GFNY BALI
25 February GFNY MONTERREY
11 March GFNY COLOMBIA
18 March GFNY URUGUAY
25 March GFNY MEXICO CITY
22 April GFNY COSTA RICA
27 April GFNY JERUSALEM
29 April GFNY MALAYSIA
Further Material for Media Use
GFNY World calendar graphic: here
Previous GFNY press releases: here
GFNY photo archive (credit SPORTOGRAF): here
Media Contact
Gran Fondo New York Inc.
Uli Fluhme
Phone: +1.212.933.4033
Email address:  uli@gfny.com