5th Annual Grand Canyon Trail Half Marathon Takes Place November 4, 2023
September 18, 2023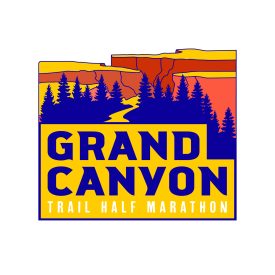 Grand Canyon Trail Half Marathon & 5k Partnership between Town of Tusayan and Run Tucson
/ENDURANCE SPORTSWIRE/ – The Town of Tusayan and Run Tucson are pleased to announce that the 5th Annual Grand Canyon Trail Half Marathon and 5k will take place on November 4, 2023.
With a loop course through the scenic Kaibab National Forest, the Trail Half Marathon will begin and end in Grand Canyon Village, located just a few miles the South Rim of the Grand Canyon. Last year runners and walkers from 28 states competed.
The Grand Canyon Trail Half Marathon is a joint partnership between the Town of Tusayan and Run Tucson, the premier local event directing company in Arizona.
Every participant receives a race shirt and a special souvenir medallion. By capping the field at 600, the race organizers will ensure an intimate running experience.
On Friday November 3rd there will be a pre-race check-in & motivational talk at the Grand Canyon MAX Theater located in Tusayan and all you can eat pasta dinner. On race day (Saturday), a pancake breakfast will be available, supporting the Tusayan Fire Department.
The Half Marathon will take place on the forest roads and trails in the Kaibab National Forrest, which surrounds the Town of Tusayan and borders Grand Canyon National Park.
This is a high elevation race with a starting elevation of 6,595 feet, a max elevation 6729 Ft and a gain of 546 ft. November weather fluctuates near the Grand Canyon, but standard temperatures ranging from mid 40's to mid 60's should make this trail run ideal. The course is not a certified distance – and may in fact be a few hundred yards longer than a half marathon.
"The course is demanding, that's for sure," says race director Randy Accetta. "After the first mile, Miles 2-4 are actually pretty rugged, with troublesome footing and an overall elevation gain. But the dirt smooths out and should be pretty comfortable for the rest of the race. The last mile rolls downhill on a paved path, part of which is the famed Arizona Trail."
About the Town of Tusayan
The Town of Tusayan is the gateway community located at the South Rim Entrance to Grand Canyon National Park and its history dates back almost to the beginning of the National Park. Featuring such businesses as hotels, RV parks, restaurants, gift shops, air and ground tours, the Town of Tusayan is committed to its residents and its visitors.
About Run Tucson: Run Tucson (www.runtucson.net) is a full-service event and coaching running company, producing running events in Arizona and coaching athletes around the nation. With coaches certified by the Road Runners Club of America (www.rrca.org), Run Tucson manages Arizona's longest-running coached training group, the Workout Group.
The Town of Tusayan and Run Tucson would like to give special thanks to our sponsoring partners: Grand Canyon Chamber & Visitor Bureau, Grand Canyon IMAX Theater, Red Feather Lodge, Tusayan Fire Department, Kaibab National Forest Service, Grand Canyon Brewing and all the volunteers that make this event successful each year.
Registration, rules, and prize money information can be found here:
https://runtucson.net/grand-canyon-trail-half-marathon/
For information on services available at Tusayan and the Grand Canyon South Rim visit: https://tusayan-az.gov/explore/ or https://grandcanyoncvb.org/
For information on Grand Canyon National Park visit: https://www.nps.gov/grca/index.htm
Contact: Town Manager Charlie Hendriz at tusayantownmanager@tusayan-az.gov
Contact: Race Director Randy Accetta at randy@runtucson.net.