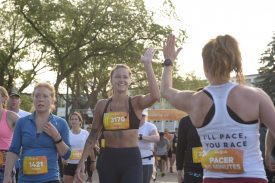 EDMONTON – And they're off!  The scenic course, which took participants through the heart of the city and along the high level bridge, attracted Olympians and recreational runners from across the country and the U.S. "The Edmonton 10K highlights the incredible power of sport and community – from the bonds formed during training to the monies raised for local charities to the camaraderie demonstrated post-race," said Alan Brookes, President, Canada Running Series.
More than a run, the race was an experience – in addition to custom medals, essential-oil recovery sprays, free massages, donuts and free race photos, runners were also treated to community yoga classes and DJ Joanna Magic throwing down beats at the finish line.
"Sweating together builds community both on and off the course," said Katie Cotter, Edmonton Regional Manager, lululemon. "The post-race party is just as important as the race itself. It gives runners a chance to celebrate friendships, personal bests and well-being. For new runners in particular, it extends the high of having completed their first race, which is an incredible accomplishment."
With cheer stations along the route, the community extended beyond those wearing bibs. Hundreds of spectators cheered on runners along the course, shouting words of encouragement and waving motivational signs, with help from ivivva by lululemon cheerleaders, Edmonton First Responders and Edmonton Pride. 
Up front, Canadian Olympian and an all-star cast of the nation's distance running community led the way. Olympian Reid Coolseat of Hamilton, ON, won an absorbing duel with Speed River clubmate Evan Esselink of Guelph in 30:08. On the women's side, Leslie Sexton (34:07) of London broke away from Sasha Gollish (34:36) of Toronto to take the win.
Edmonton 10K Results
Men
Reid Coolsaet, Hamilton – 30:08
Evan Esselink, Guelph – 30:20
Trevor Hofbauer, Calgary – 30:27
Women
Leslie Sexton, London

 

– 34:07
Sasha Gollish, Toronto – 34:36
Dayna Pidhoresky, Vancouver – 35:04
For full race results, visit: Edmonton10K.com
Photos from today's event are available for download at please visit: Edmonton10K.com
Kindly credit: Canada Running Series.
Fundraising for Here to Be, Little Warriors and Wellspring Edmonton remains open until August 3, 2018 at Edmonton10k.com
About lululemon athletica inc.
lululemon athletica inc. (NASDAQ:LULU) is a healthy lifestyle inspired athletic apparel company for yoga, running, training, and most other sweaty pursuits, with products that create transformational experiences for people to live happy, healthy, fun lives. Setting the bar in technical fabrics and functional designs, lululemon works with yogis and athletes in local communities for continuous research and product feedback. For more information, visit http://lululemon.com
About Canada Running Series
Canada Running Series is the nation's premier running circuit with 8 events: 4 in Toronto, 2 in Vancouver 1 in Montreal and 1 in Edmonton.  It annually attracts some 60,000 participants and raises more than $6 million for some 320 mostly-local charities.  The Series includes the IAAF Gold Label Scotiabank Toronto Waterfront Marathon, and the Athletics Canada National Marathon Championships. Since 1999, CRS has gained international recognition for innovation and organization.
We are passionately committed to staging great experiences for runners of all levels from Canadian Olympians and International stars, to healthy lifestyle people and charity runners; and to making sport part of sustainable communities and the city-building process.  Our mission is "building community through the sport of running."
MEDIA CONTACTS
Canada Running Series
Kirsten Fleming, 
Finish Line Media Manager
587-899-2287 cell
lululemon
Seema Dhillon
Canadian PR Manager
sdhillon@lululemon.com
604-783-0324 cell