3M Half Marathon's 30th Anniversary Registration Opens with Deals
June 19, 2023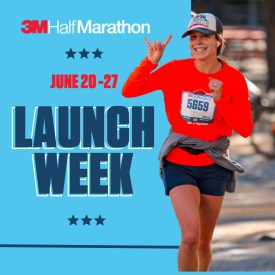 Group runs, discounts and prizes highlight week-long launch event
AUSTIN, TX /ENDURANCE SPORTSWIRE/ – The 3M Half Marathon marks the official opening of 2024 registration with a week of giveaways, promotions and group runs. From June 20th through 27th, participants can sign up for the half marathon and be eligible for special prizes. The 30th Anniversary event is scheduled to take place on Sunday, January 21, 2024, in Austin, Texas.
"We are so excited to celebrate 30 years of the 3M Half Marathon with our amazing running community. Launch Week is a fantastic opportunity for runners to not only register at a great price but also have a chance at some awesome giveaways." said High Five Events co-owner, Jack Murray. "The addition of the Relay this year is a fun new way for runners to challenge themselves while sharing the journey with friends, family, or colleagues."
Launch Week includes daily giveaways:
Day 1 (June 20th) Free Personalized Nameplate
Day 2 (June 21st) 1 in 5 registrations will win a one of a kind colorway SPIbelt
Day 3 (June 22nd) Super Swag Bag with goodies from Super Coffee, Under Armour and GU
Day 4 (June 23rd) Entered to win Fleet Feet Austin prize package ($200 value)
Day 5 (June 24th) Chance to win limited edition 3M Half Marathon ceramic mug
Day 6 (June 25th) Month Supply of Nuun sport
Day 7 (June 26th) Chance to Win Your Entry Back
Day 8 (June 27th) EIGHT Goody Pack
Group runs are being held at various locations around Austin during Launch Week. Participating organizations include 5RUN2 (Wednesday at 6:30 AM); East Side Beer Runners (Wednesday at 6:30 PM); Rise & Run Club (Thursday at 5:00 AM); Fleet Feet Austin Seaholm (Friday at 6:30 AM); Gilbert's Gazelles (Saturday 5:45 AM); ATX Runners (Saturday 7:00 AM); Circle C Run Club (Saturday 7:30 AM); Austin Front Runners (Saturday 10:00 AM); Pfun Runners (Tuesday 6:00 PM).
"The 3M Half Marathon is a great way to stay active and challenge yourself. I love the support from fellow runners, volunteers, and spectators throughout the course. It's an amazing event that brings our community together every year," says Austin runner Rachel Trimyer. "Also, I always love their finisher medal, each year is so unique. I can't wait to see the 30th Anniversary one!"
Registration is now open at 3M Halfmarathon.com for $119 for the Half Marathon and $189 for the Relay. Those who register during Launch Week will also have the option of adding the Austin Marathon or Austin Half Marathon and receive $10 off as part of the combo deal. Prices increase after the conclusion of Launch Week. Follow the @3MHalfMarathon on Instagram for more details on the group runs and giveaways. To receive all offers, sign up for the 3M Half Marathon mailing list here.
About 3M Half Marathon: The 3M Half Marathon, produced by High Five Events, boasts one of the fastest 13.1-mile courses in the country and will celebrate its 30th year running in 2024. Runners will enjoy a point-to-point course with mostly downhill running that showcases some of Austin's finest locations. Starting in north Austin and finishing near downtown, the 3M Half Marathon is USATF-certified and features live music, finish line festival, and amazing swag. Learn more at www.downhilltodowntown.com.
About High Five Events: Beginning with the launch of a single triathlon in 2003, High Five Events has grown to become one of the largest privately owned event production companies in the United States. High Five Events is a community-centric company based in Austin, Texas. Their staff has more than 100 years' combined experience organizing large events across different venue types in a variety of locations. The company has landed on Inc. 500 fastest growing companies in both 2019 and 2020.