3 X Ironman World Champion Mirinda Carfrae Returns to Racing
March 23, 2018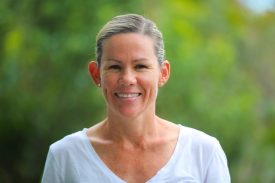 2018 Schedule Release and Launch of YouTube Channel
23rd of March, 2018 — Fans of four-time triathlon world champion Mirinda Carfrae need only wait a few more weeks to see their favorite female pro back in competitive action. The pint-sized Australian powerhouse has released her 2018 race schedule, along with a new YouTube channel sharing a look into the lives of Carfrae, husband and fellow pro Tim O'Donnell, and six-month-old daughter Isabelle.
Following a year-long break from professional racing, Carfrae is fired up to toe her first start line of the 2018 season at IRONMAN Texas 70.3 on April 8th. "I cannot wait to get back at it," says Carfrae. "Taking time off to start a family has been the most rewarding experience of my life. But I can't deny my competitive fire, and my drive to push myself to new levels of performance. Now, as Izzy's mum, I'm more motivated than ever to make every training session matter and to race to my best ability for my little family."
On the heels of a solid six-week training block in Noosa, Australia, Carfrae and O'Donnell will return to the States in time for an appearance at RACE-MANIA in Boston this weekend March 25th. Produced by Sun Multisport Events, the RACE-MANIA Summit and Expo features informative talks, hands-on clinics, shake out run, a vendor expo, and more. The event is designed to educate, equip, and inspire athletes preparing for the new season, and Carfrae is eager to connect with fans and share her expertise gleaned from years spent training and racing in the highest echelon of triathlon's elite.
Beginning in April at IRONMAN 70.3 Texas, Carfrae will kick off a schedule that includes monthly race appearances in the build to October's IRONMAN World Championship, where the three-time winner (2010, 2013, and 2014) aims to regain her crown. "I'm hungry for it," says Carfrae. "I haven't been on that top step in Kona since 2014, and every year the women's field gets stronger and faster. But that doesn't scare me; instead it inspires me to rise to the challenge. I'm not afraid to say that I want to be back on top, and I believe I have what it takes to make that happen."
Highlights of Carfrae's race calendar include a return to Australia for the IRONMAN Asia-Pacific Championship on June 10th, and a first-time visit to Poland for IRONMAN 70.3 Gdynia on August 5th before settling into her final Kona build.
Mirinda Carfrae's 2018 competitive schedule (subject to change):
April 8             IRONMAN 70.3 Texas
May 13            IRONMAN 70.3 Monterrey
June 10            IRONMAN Asia-Pacific Championship
July 28             IRONMAN 70.3 Santa Rosa
August 5         IRONMAN 70.3 Gdynia
September 9    IRONMAN 70.3 Santa Cruz
October 13      IRONMAN World Championship
In addition to training, Carfrae and O'Donnell have been busy strategizing new ways to engage with fans and showcase their experiences. The couple recently launched the Tim and Rinny Show on YouTube, where they'll share an honest and entertaining behind-the-scenes look into their lives as world-class athletes and first-time parents. Fans are also encouraged to keep up with Carfrae via her website and social media platforms:
Instagram @mirindacarfrae
Facebook @rinnytriathlon
Twitter @Mirindacarfrae
With her new perspective as a parent, and with her body and mind refreshed following time off, Carfrae is pumped for her racing comeback. "It feels really good to be back in good form. I'm in a new stage of my life, and merging motherhood with training and other responsibilities is certainly a juggling act, but it's one I'm embracing," says Carfrae. "I believe it is possible to do it all and do it all exceptionally well—and I hope I can help inspire other mums and dads to do the same."
About Mirinda Carfrae
Mirinda Carfrae is an Australian professional triathlete and 3 x Ironman World champion. Carfrae's consistency at the Ironman World Championships include the following: three gold (2010, 2013, 2014), three silver (2009, 2011 and 2016), and a bronze (2012). Her World Championship win at the 2007 Ironman 70.3 World Championships qualified her for her 2009 Ironman debut where she set a new run course record for the marathon of 2:56:51. She continued to set new course records for the marathon in 2010 (2:53:32), 2011 (2:52:09), 2013 (2:50:38) and 2014 (2:50:26).  Mirinda "Rinny" Carfrae looks forward to pushing herself again in Kona this October at the 2018 World Championships after taking a year of racing with the addition of her first child Izzy with husband Timothy O'Donnell.
Valued partners include TYR, Hoka One One, Chocolate Milk, Felt, Castelli, GU Energy, Oakley, Bonk Breaker, SRAM, Zipp, POLAR, Allen Sports, Desert Mountain, Sheex, ReST Performance, ISM, XLAB, Normatec and Technogym.