25 Years and Running: 27,000 Registered Runners Take on the 25th Edition of Rock 'N' Roll Running Series San Diego, The Largest Marathon and Half Marathon Weekend on The West Coast
June 5, 2023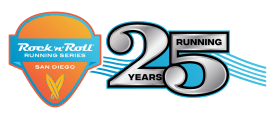 Rock 'n' Roll Running Series celebrates 25 Years of Running with the event that started it all in San Diego, California
SAN DIEGO, Calif./ENDURANCE SPORTSWIRE/ – The 25th running of the Rock 'n' Roll® Running Series San Diego showcased it is as popular as ever, hosting over 27,000 registered runners from all 50 states and 42 countries, regions, and territories for the largest marathon and half marathon weekend on the West Coast of the United States. Participants joined in the "25 Years Running" celebration as they took on a running tour of America's Finest City through 5K, Half Marathon, and Marathon distances.
In 1998, the Rock 'n' Roll Running Series was born in San Diego, California drawing nearly 20,000 participants to the start line of the very first Rock 'n' Roll Running Series event, setting a record in 1998 as the largest debut marathon in U.S. history. With a mission to make running fun, Rock 'n' Roll San Diego was the race that started it all in transforming both the U.S. and global running landscape with a combination of music, running, and community while also removing the pressures that other events carried.
Since then, the Rock 'n' Roll Running Series has had start lines in 47 cities across 12 countries, Bringing Fun to the Run® by infusing running tours of major cities with on course live bands, cheer teams, festive water stations, and finish line encore entertainment that have created a block-party atmosphere for everyone involved. That's 25 years of runners, walkers, novices, and record holders, enjoying remarkable moments at Rock 'n' Roll Running Series events.
Among the runners taking to the start line this year are over 50 "Legacy Runners," who have participated in the marathon distance every year since the inaugural race in 1998. These runners have overcome many obstacles to maintain their prized title including Johan Otter who ran after surviving a grizzly bear attack. Other "Legacy Runners" include former principal Listy Gillingham who runs every year on or around her birthday, Melvin Coleman Jr. who runs the entire marathon with an American flag, Dawn Gordon-Perine who runs in honor of her husband who passed in 2021 and was her biggest running fan and partner, among many others.
"So many people on the course cheered me on as a Legacy Runner, and I also passed other Legacy Runners and we cheered each other on," said Otter, who crossed the finish line with a huge smile on his face. "It was fantastic, the weather was perfect, and the bands, entertainment and water stations were great. I'll be back next year."
Saturday's Rock 'n' Roll Running Series San Diego marathon also saw elite runners take to the course. It was Chris Frias (Ventura, Calif.) with a time of 2:29:23 was the winner for the men's marathon, while Bonnie Keating (San Diego, Calif.) returned to defend her title with a winning time of 2:45:47.
"I have been wanting to do a marathon for a while, I got injured mid-way through the winter, so this is the perfect timing for it and my goal was to try to qualify for the U.S. Olympic Trails in Orlando, Florida. The temperature was perfect, the course was great up to mile 23 that really hurt, I need to work on that part of my training. The energy really keeps me going, gave me that surge and rush of feeling good – that definitely helped," said Chris Frias.
"The weather is perfect so no complaints on that. I got a rough start, I started back in corral 3 so the first couple of miles I started weaving in but no complaints, there was really good course support," said Bonnie Keating. "This is a really good course to prep for something else. I am happy with this."
Kibrom Elias (San Diego, Calif.) with a time of 1:05:07 and Zoe Baker (Golden, Colo.) finishing in1:15:59 were the male and female overall winners of the Rock 'n' Roll San Diego Half Marathon.
"It was fun to be out on the course; I ran it last year and it's great to be back again at home," said San Diego native Kibrom Elias. Elias who recently moved to Flagstaff, Ariz.to train but was in town to visit family and decided to race Rock 'n' Roll San Diego again this year. Elias added, "To be honest, every runner's dream is to win, if you are going to be stepping up to the line, your goal is to win it, but I wasn't really expecting to win it but my goal was to be in the top-3 for sure. There was a lot of good support out on the course and the people volunteering at the water stations, it was just good atmosphere to run in San Diego."
Zoe Baker who ran her first ever half marathon came home victorious, she shared, "I am coming off college track season and I decided to go with the first girl I saw and see what happened." Baker is a grad student at Colorado School of Mines where she is studying Computer Science. "I am going to try to marathon train for the fall, but this is my first try at the half marathon distance and I really liked it. I was looking for a fast marathon in a pretty city and I had a couple of friends here and so this sounded perfect. I love the city so far, it's so beautiful. The energy on course was amazing, every single corner I had people cheering for me, I was smiling the entire time, yelling support for me, it was a really special experience."
In a ceremony at the start line before the thousands of participants made their way through the San Diego streets, Mayor of San Diego, Mayor Todd Gloria made the proclamation that Sunday, June 4, 2023 would be known as Rock 'n' Roll Marathon Day. Rock 'n' Roll Running Series officials were awarded a certificate to recognize this honor.
Race day of course brought more than just fast times as several local bands, including Bobby Tunes, The Surf Birdz, Naruwan Taiko's Japanese drums, and many more, performed live on band stages along the route interspersed with cheerleaders and crowd support. Runners also enjoy on-course entertainment by local Drag Queens as well as Anchorman and Top Gun impersonators. Saved by the 90s and Red Not Chili Peppers took the stage at Waterfront Park as the Encore Entertainment concert.
Rock 'n' Roll Running Series San Diego has long been a favorite stop on the best-in-class running series tour, welcoming visitors from all over to experience the ultimate tour on foot of America's Finest City. Runners and walkers alike had a tour of everything San Diego has to offer with a picturesque course, jam-packed with spectator support. The half marathon and marathon courses lead runners through some of San Diego's most iconic neighborhoods, including Balboa Park, Hillcrest, North Park, Normal Heights and more, before finishing in Downtown San Diego.
Presale registration for all distances of the 2024 edition of the Rock 'n' Roll Running Series San Diego taking place on June 1-2, 2024, is now open online through 11:59 p.m. PT on June 11, 2023. Future participants can lock in presale pricing by visiting, www.runrocknroll.com/san-diego. Special presale pricing will be at the lowest price of the year, at $85 for the Marathon, $75 for the Half Marathon, and $45 for the 5K. To register for 2024 or learn more about Rock 'n' Roll Running Series San Diego, please visit www.runrocknroll.com/san-diego.
Next Rock 'n' Roll Running Series Events Coming Up:
The Rock 'n' Roll Running Series continues its 25th Anniversary celebration as the series makes its way to Salt Lake City for the very first time. Making its debut on August 18-19, 2023, the Rock 'n' Roll Running Series Salt Lake City presented by Utah Sports Commission will be a truly unique experience. Surrounded by awe-inspiring mountain views and infused with a culture that's West of Conventional, Salt Lake City is the perfect destination to elevate runners next half marathon or 5K experience. From the snowcapped peaks surrounding the Valley and a vibrant downtown culture, to the unforgettable on-course entertainment and a Finish Line Festival in the heart of the city, there's no doubt that participants will walk away with the ultimate runner's high. Registration for the Rock 'n' Roll Running Series Salt Lake City presented by Utah Sports Commission is open by visiting, www.runrocknroll.com/salt-lake-city.
To see the full schedule of Rock 'n' Roll Running Series events, visit www.runrocknroll.com/all-events.
For more information on the Rock 'n' Roll Running Series, please visit www.runrocknroll.com. Media inquiries may be directed to press@runrocknroll.com.
** Terms and Conditions: Footage and photography is provided courtesy of The IRONMAN Group for news and editorial coverage within 48 hours of the event and is not to be archived. Media may use up to a total of two minutes of video. The B-Roll packages are not provided for the intent of posting the footage in its entirety. Any commercial use or other use of the footage and or photos is strictly prohibited unless a separate written license is obtained from and signed by an authorized representative of The IRONMAN Group. Additional terms and conditions can be found here. Usage of materials constitutes acceptance of terms. **
###
About Rock 'n' Roll Running Series
Established in 1998, the Rock 'n' Roll Running Series simple idea of making running fun has transformed both the U.S. and global running landscape by infusing the course with live bands, cheer teams, and entertaining water stations, creating a block-party atmosphere for participants and spectators alike. Focused on running, music and community, race weekend kicks off with a free Health & Fitness Expo showcasing the latest in running gear, sports apparel, health and nutritional information and much more. Events culminate with an Encore Entertainment experience featuring eclectic musical artists from a variety of genres. With a goal of helping participants find the Beat in Their Feet™, the Rock 'n' Roll Running Series has also featured some of the biggest names in music, with past performances including the likes of Macklemore & Ryan Lewis, O.A.R., Aloe Blacc, Pitbull, Flo Rida, The Band Perry, Fitz and the Tantrums, the Goo Goo Dolls, Bret Michaels, Kesha, The Revivalists, Hunter Hayes, Capital Cities, and Matt Nathanson. Further information about the Rock 'n' Roll Running Series can be found online at www.RunRocknRoll.com and follow @RunRocknRoll on all social platforms.
About The IRONMAN Group
The IRONMAN Group operates a global portfolio of events that includes the IRONMAN® Triathlon Series, the IRONMAN® 70.3® Triathlon Series, 5150™ Triathlon Series, the Rock 'n' Roll® Running Series, IRONKIDS® Series, World Triathlon Championship Series, premier running events including the Standard Chartered Singapore Marathon™ and City2Surf®, UTMB® World Series trail-running events including the Canyons Endurance Runs™ by UTMB®, Tarawera Ultra by UTMB® and Ultra-Trail Australia™ by UTMB®, Epic Series™ mountain bike races including the Absa Cape Epic®, road cycling events including Haute Route®, and other multisport races. The IRONMAN Group is the largest operator of mass participation sports in the world and provides more than a million participants annually the benefits of endurance sports through the company's vast offerings. Catering to the full athlete experience, the company portfolio also includes FulGaz® virtual cycling, the most realistic indoor riding experience connected fitness application aimed at preparing athletes for real-world events. Since the inception of the iconic IRONMAN® brand and its first event in 1978, athletes have proven that ANYTHING IS POSSIBLE® by crossing finish lines around the world. Beginning as a single race, The IRONMAN Group has grown to become a global sensation with hundreds of events across 55+ countries. The IRONMAN Group is owned by Advance, a private, family-owned business. For more information, visit www.ironman.com/about-ironman-group.
About Advance 
Advance is a private, family-held business that owns and invests in companies across media, entertainment, technology, communications, education and other promising growth sectors. Our mission is to build the value of our companies over the long-term by fostering growth and innovation. Advance's portfolio includes Condé Nast, Advance Local, Stage Entertainment, The IRONMAN Group, American City Business Journals, Leaders Group, Turnitin, 1010data and Pop. Together these operating companies employ more than 17,000 people in 29 countries. Advance is also among the largest shareholders in Charter Communications, Warner Bros. Discovery and Reddit. For more information visit www.advance.com.