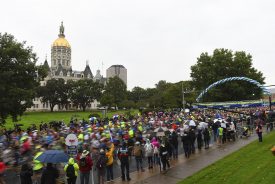 2018 event raised $300,000 for charity and generated $11.7 million in economic value
May 15, 2019, Glastonbury – Thousands of runners are motivated to use the Hartford Marathon Foundation's 2019 Eversource Hartford Marathon, Half Marathon, Team 26.2 Relay and Charity 5K on October 12, 2019 to raise funds on behalf of countless initiatives and causes.  The Eversource Hartford Marathon Official Charity program accepts a limited group of dedicated nonprofit organizations each year to represent the event's spirit of generosity.  The 2019 Official Charity program includes 25 organizations committed to rallying participants, supporters and volunteers.  All race participants are encouraged to join a team or donate to the Official Charities. 
Fundraising efforts support community and philanthropic initiatives across the region, with more than $7.5 million raised for charity through the Eversource Hartford Marathon and Half Marathon since its inception in 1994. Last year, the event generated approximately $300,000 for charity and brought an estimated $11.7 million of economic value to the area. The Hartford Marathon Foundation spent approximately $2 million in the local community for operations, supplies, safety and security, professional staff and other resources necessary to stage the event.
2019 Eversource Hartford Marathon and Half Marathon Official Charities:
A Foundation Building Strength
Abby's Helping Hand
Achilles International-Connecticut
American Cancer Society
American Red Cross
Big Brothers Big Sisters Nutmeg
Carmine Frank Mangini Foundation
Children's Education Fund
Connecticut Children's Medical Center
Crohn's & Colitis Foundation
Donate Life Connecticut
empowerHER
Fidelco Guide Dog Foundation
Girl Scouts of Connecticut
Girls on the Run Greater Hartford
Healing Meals Community Project
Hospital for Special Care
Independence Unlimited
Jordan Porco Foundation
Journey Home
Mental Health Connecticut, Inc.
Oak Hill
Ron Foley Foundation
Susan G. Komen New England
United Way of Central and Northeastern CT
"This is a true community-centric event, providing the opportunity for participants to run for good and achieve their goals while giving back.  The Official Charity program helps us better serve runners and walkers of all abilities to support causes important to them," said Beth Shluger, President and CEO of the Hartford Marathon Foundation and Eversource Hartford Marathon race director. "We are incredibly proud of the many benefits provided to the local region through economic activity and charity fundraising generated by the Eversource Hartford Marathon and our calendar of 30+ events each year."
The 2019 race calendar is available and registration is open at www.hartfordmarathon.com. 
About the Hartford Marathon Foundation
The Hartford Marathon Foundation, Inc. is a nonprofit organization founded in 1994 to create and manage fitness events that inspire people to be healthy and fit. Located in Glastonbury, Connecticut, the Hartford Marathon Foundation organizes more than 30 annual athletic races, including the Eversource Hartford Marathon and Half Marathon, and training programs for young runners. For more information, visit www.HartfordMarathon.com and follow on Facebook at HMF Events, Twitter at @runHMF and Instagram at HMF_Events.