2023 IRONMAN 70.3 Mont-Tremblant Triathlon Rescheduled to take place on August 20 in conjunction with the full distance IRONMAN Mont-Tremblant Triathlon, part of the VinFast IRONMAN North America Series
June 27, 2023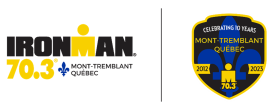 - IRONMAN and city and resort partners worked closely to find alternative solution for athletes after the need to cancel the event due to unsafe conditions on June 25
MONT-TREMBLANT, QUEBEC, CANADA (June 27, 2023)/ENDURANCE SPORTSWIRE/ – IRONMAN and Tremblant Resort are pleased to announce that the IRONMAN® 70.3® Mont-Tremblant triathlon has been rescheduled for Sunday, August 20, 2023. The event, which was originally scheduled to take place on Sunday, June 25 was cancelled due to the devastating wildfires that are continuing to burn across the Province of Quebec, causing a high concentration of fine particles along with poor Air Quality Index (AQI) to move into the region and make conditions unsafe to host the event.
The 2023 IRONMAN 70.3 Mont-Tremblant triathlon will now take place in conjunction with the 2023 IRONMAN Mont-Tremblant triathlon, part of the VinFast IRONMAN North America Series.
''The decision to cancel an event is always heartbreaking, but the safety of our participants, spectators, volunteers, staff and everyone else involved in the event always remains our highest priority," said Dave Christen, Regional Director for The IRONMAN Group. "From the moment we had to cancel the event, we went to work with our partners at Événements Sportifs Mont-Tremblant to quickly identify a solution and provide all of our athletes with a variety of race options. That's why we're extremely pleased to be able to offer a new date to our registered athletes and to combine two great events, celebrating the best of sportsmanship. Along with our trusted regional partners, we spared no efforts to ensure that the infrastructures could accommodate this unique triathlon rendez-vous on August 20, 2023.''
''We recognize the dedication and resilience of all the athletes that were registered in the IRONMAN 70.3 Mont-Tremblant triathlon and truly wanted to be able to offer them the opportunity to experience this unique race in our stunning Laurentian Mountains setting," added Patrice Malo, President and COO of Station Mont Tremblant and President of Tremblant Resort Association's board of directors. "Our destination is always proud to host the IRONMAN events and we are very happy to be able to accommodate athletes for both distances in August!''
The IRONMAN team along with the Province Health Authorities were monitoring several air quality stations across the Mont-Tremblant region leading into the event and during race morning. The AQI zones around the racecourse and venue had a value of close to 250 with some locations on the course pushing closer to 300 which is well above the acceptable threshold. These zones were forecasted to remain at similar values throughout the day and ultimately provided an unsafe environment for all our participants, volunteers, staff, and spectators.
''For an event that has been a long-time favorite and a staple on the IRONMAN 70.3 circuit, we were excited to once again showcase this beautiful region and provide athletes with a race experience that they deserve and are pleased to be able to have another opportunity to do so in August,'' continued Christen.
Celebrating 10 years, the IRONMAN 70.3 Mont-Tremblant triathlon will take place in the picturesque international Resort of Tremblant in the heart of Quebec's stunning Laurentian Mountains. Athletes will kick off their IRONMAN 70.3 journey with a 1.9-km (1.2-mile) swim in the Lac Tremblant before embarking on the 90-km (56-mile) bike course through the rolling countryside and into the Laurentian Mountains before returning to the resort. The 21-km (13.1-mile) run course will take athletes along Lac Tremblant, down the P'tit train du Nord and into the heart of the resort's pedestrian village for an unforgettable finish line experience.
Athletes that were checked-in for the 2023 IRONMAN 70.3 Mont-Tremblant triathlon have been sent an email with more information. If athletes that were checked-in to race the 2023 IRONMAN 70.3 Mont-Tremblant event have not received this e-mail or have additional questions, they can contact monttremblant70.3@ironman.com.
For more information on the IRONMAN 70.3 Mont-Tremblant triathlon visit www.ironman.com/im703-mont-tremblant. For more information on the IRONMAN Mont-Tremblant triathlon, part of the VinFast IRONMAN North America Series, visit www.ironman.com/im-mont-tremblant. For more information on the IRONMAN brand and global event series, visit www.ironman.com. Media inquiries may be directed to press@ironman.com.
###
About The IRONMAN Group
The IRONMAN Group operates a global portfolio of events that includes the IRONMAN® Triathlon Series, the IRONMAN® 70.3® Triathlon Series, 5150™ Triathlon Series, the Rock 'n' Roll® Running Series, IRONKIDS® Series, World Triathlon Championship Series, premier running events including the Standard Chartered Singapore Marathon™ and City2Surf®, UTMB® World Series trail-running events including the Canyons Endurance Runs™ by UTMB®, Tarawera Ultra by UTMB® and Ultra-Trail Australia™ by UTMB®, Epic Series™ mountain bike races including the Absa Cape Epic®, road cycling events including Haute Route®, and other multisport races. The IRONMAN Group is the largest operator of mass participation sports in the world and provides more than a million participants annually the benefits of endurance sports through the company's vast offerings. Catering to the full athlete experience, the company portfolio also includes FulGaz® virtual cycling, the most realistic indoor riding experience connected fitness application aimed at preparing athletes for real-world events. Since the inception of the iconic IRONMAN® brand and its first event in 1978, athletes have proven that ANYTHING IS POSSIBLE® by crossing finish lines around the world. Beginning as a single race, The IRONMAN Group has grown to become a global sensation with hundreds of events across 55+ countries. The IRONMAN Group is owned by Advance, a private, family-owned business. For more information, visit www.ironman.com/about-ironman-group.
About Advance 
Advance is a private, family-held business that owns and invests in companies across media, entertainment, technology, communications, education and other promising growth sectors. Our mission is to build the value of our companies over the long-term by fostering growth and innovation. Advance's portfolio includes Condé Nast, Advance Local, Stage Entertainment, The IRONMAN Group, American City Business Journals, Leaders Group, Turnitin, 1010data and Pop. Together these operating companies employ more than 17,000 people in 29 countries. Advance is also among the largest shareholders in Charter Communications, Warner Bros. Discovery and Reddit. For more information visit www.advance.com.