2022 DeSatnick Real Estate Escape the Cape Triathlon Sells Out In 7 Days
November 8, 2021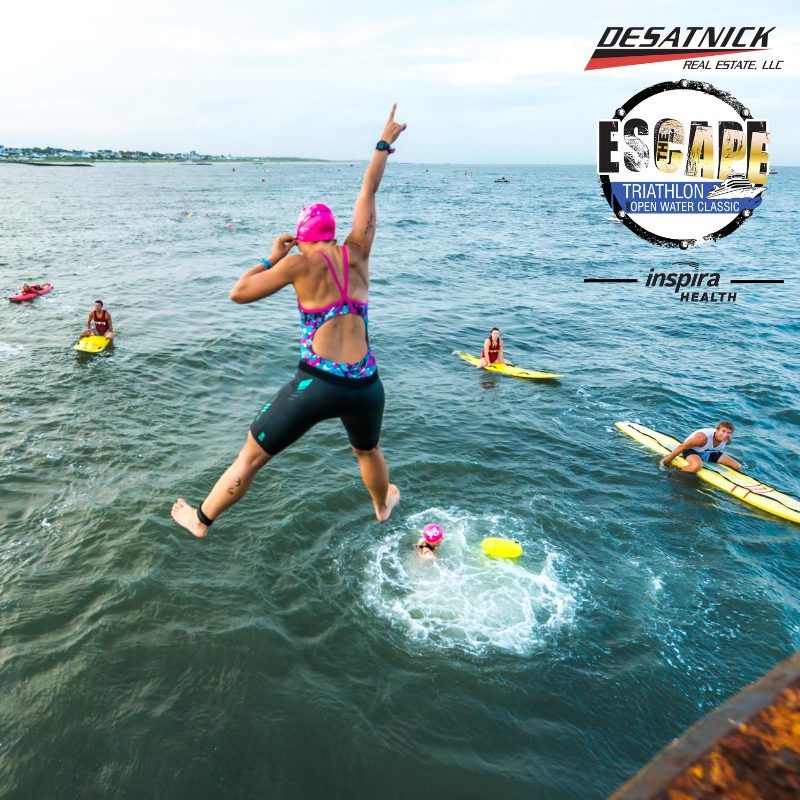 Event once again selected a "Best Triathlon" by Triathlete Magazine
/ENDURANCE SPORTSWIRE/ – The 2022 DeSatnick Real Estate Escape the Cape Triathlon and Open Water Classic, presented by Inspira Health, reached capacity in just 7 days, selling out with 2,000 triathletes and swimmers. Athletes from 40 states, including 373 first time triathletes, will make the journey to Lower Township, NJ to leap off the Cape May Lewes Ferry June 12th, 2022. Once again, Escape the Cape has been selected a "Best Triathlon" by the editors of Triathlete Magazine, as it continues attract triathletes from around the USA to one of DelMoSports' signature events. Thousands of spectators will line the racecourse, from the starting point at the Ferry to the finish line on the Terminal's boardwalk.
With the incredible "money shot" start – athletes leaping 12 feet from the MV Delaware ferry vessel into the Delaware Bay and swimming ashore – to the gorgeous bike course through vineyards and beautiful back roads, and on the bayfront run to the finish line, Escape the Cape remains an absolutely distinct race experience. A USA Triathlon sanctioned event, Escape the Cape offers two race distances: The Sprint Triathlon: .35-mile swim, 12-mile bike, and 5K run; and the Olympic Triathlon: 1-mile swim, 23-mile bike, and 5-mile run.
The Escape the Cape Open Water Classic is now an "in-demand" open water swim competition in the Mid-Atlantic,providing swimmers the same thrill of jumping off the Cape May-Lewes Ferry to start their race. The Open Water Classic is a 3-mile open water swim in the flat waters of Delaware Bay.
"Coming out of a challenging 20 months, I am super-excited about the response and commitment people are making so far in advance for the 2022 ETC" said Stephen Del Monte, Founder and CEO of DelMoSports. Like many of our athletes, our team persevered through these times so we could continue to produce world-class events on the Jersey Shore, so this is a testament to them. And with our new title partnership with DeSatnick Real Estate, our growth trajectory could not look better."
For more information on the Escape the Cape Triathlon and Open Water Classic, visit www.delmosports.com