20 races in 2018 for Global Cycling Marathon Brand, GFNY
December 5, 2017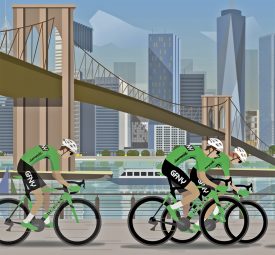 50,000 riders from over 100 countries to compete in GFNY races around the world
NEW YORK CITY, December 5, 2017 – GFNY World, the global cycling marathon brand, continues expanding its portfolio of events in 2018.
A total of 20 GFNY races will be held in 2018. 15 races are already listed, while 5 more events in the United States, South America, Europe and Asia are yet to be announced.
GFNY expansion globally  
"Today, the GFNY calendar defines the cycling season of thousands of athletes around the world," says GFNY CEO Uli Fluhme. "Riders seek the consistent high quality that GFNY offers, whether it's the race experience, when choosing the Made-in-Italy GFNY Cycling Apparel or the GFNY Coffee. Many make it their goal to participate in several GFNYs to get their all-new Multi-Finisher medals."
At the heart of the series is always the Campagnolo GFNY World Championship in NYC. This is the race that riders aspire to be part of and excel at. The Campagnolo GFNY World Championship NYC brings the world of cycling together. With 93 nations represented on the start line of the 2017 Campagnolo GFNY World Championship, it was cycling's most international peloton.
The 2018 Regional GFNY Championships take place in Indonesia-Samosir (Asia), Germany-Hamelin (Europe), Mexico-Monterrey (Latin America) and Israel-Jerusalem (Middle East – Africa).
The GFNY standard  
All GFNY World events offer participants the established, trusted GFNY experience complemented with each location's local flair.
At each GFNY event, riders enjoy:
Closed roads or police-moderated traffic with right-of-way at all intersections
Start-to-finish chip timing
Rankings based on finish time and a podium awards ceremony
Finisher medal
Official race jersey, which is mandatory attire for the race and made by GFNY in Italy
Uniform set of rules to ensure fairness and predictability for the riders
A race in an attractive tourism destination for cyclists and family
GFNY World races offer a consistent, high-quality rider and family experience across all events. Riders get to BE A PRO FOR A DAY on challenging, scenic courses with a professional level of support.
Every rider receives the iconic, official, neon green GFNY race jersey, which has become a sought-after badge of honor.
The original GFNY NYC race serves as the World Championship of the series, and each GFNY World race gives riders the chance to qualify for the elite racer corral start in NYC.
GFNY Multi-Finisher Medal
As GFNY expands its global cycling marathon brand in 2018, it's never been a more rewarding time to race GFNY. And with exciting new locations on the 2018 calendar, it's also never been 'easier' to earn a GFNY Multi-Finisher Medal.
In 2018, GFNY will offer two types of Multi-Finisher medals. The first is a '3-Timer 2018' medal that awards finishers of three GFNY races in 2018.
The second is a 'Multi-GFNY' medal that awards riders who have accumulated 10, 20, 30, or even 40 GFNY finishes from all time. Each medal has a letter of GFNY and upon completing 40 GFNY races, a rider can complete G-F-N-Y Multi-Finisher medal set. The multi-medal series also contains GFNY's slogan: "Be a Pro For a Day".
The 2018 GFNY events  
The 2018 GFNY World series consists of 20 events, of which five will be confirmed in time for the new year.
The inaugural GFNY Bali on February 4 offers the complete package for cyclists and families looking for a cultural, relaxing and fun vacation in paradise.
The Latin America Championship takes place in GFNY Monterrey on February 25. The race starts in downtown Monterrey and finishes on top of Chipinque, the most challenging climb of this Mexican metropolis.
The fourth annual GFNY Colombia, just outside Bogotá, will take place on March 18 and will challenge riders with a climb reaching 11,031 feet (3362m). Cycling is the country's #2 sport and travel to Colombia is becoming trendy, making GFNY Colombia an ideal destination race for any cyclist.
Meanwhile in South America's Saint Tropez, Punta del Este, GFNY Uruguay will also be held on March 18. It's the country's only mass participation bike race and travels past the iconic Hand sculpture, swanky beachfront neighborhoods and sprawling ranches.
The adventure-packed, nature-getaway town of La Fortuna will host riders and families at GFNY Costa Rica on April 22. Lush rainforest and the famous and awe-inspiring Arenal Volcano provide postcard-worthy views along the race course, even as riders tackle several short but steep hills.
At the inaugural GFNY Jerusalem on April 27, the holiest of cities will host riders from all over the world. Participants will race through the most historic city in the world and make their own history.
The Campagnolo GFNY World Championship NYC will be held on May 20. 5000 riders from over 90 countries are competing for the crown on a challenging 160km course with over 2500m of climbing. Riders who finished in the top ranks of their age group at previous GFNY events, receive a start spot in the Racer Corral at the front. Colombian Camila Cortes and Italian Riccardo Pichetta are set to defend their 2017 titles.
The inaugural GFNY Polska-Gdynia on May 27 is held at the popular tourist destination at the Baltic Sea, well known for being the sunniest city in Poland. The route will take riders outside of the city into the countryside and through the hilly and picturesque Kashubia region on fully closed-to-traffic roads.
GFNY Brasil offers a stunning course over rolling hills, one featured longer climb, some fun curves on small roads and over 3300m of climbing. The race on August 5 is hosted in Conservatória, an area formerly known for coffee plantations and now for hosting concerts. The charming and tranquil town is just three hours from Rio de Janeiro.
GFNY Indonesia is now held on Samosir Island in the middle of Lake Toba, in North Sumatra on September 2. Freshly paved roads at an altitude of 1000m will provide more temperate racing temperatures and wild nature at this GFNY Championship Asia.
This year's GFNY Championship Europe will be held at GFNY Deutschland, also on September 2. It's a chance for riders to enjoy smooth, fully closed-to-traffic roads, an undulating course and throngs of cheering fans along the route. Of course GFNY Deutschland offers great German beer to complement post-race sausage and fries.
The inaugural GFNY Portugal will be held on September 9 in Cascais, a famous, historic coastal town just west of Lisbon. It's known for its sandy beaches and busy marina. The cosmopolitan city will offer riders and families a fantastic vacation and scenic race course.
Panama kicks off three more Latin American races, with an event hosted by the resort town Anton. GFNY Panama on October 21 will be ideal for riders who want to challenge themselves but also enjoy relaxing by the pool.
The extremely successful GFNY Cozumel returns for the 5th annual edition on November 11 and expects 4000 athletes. With a road that circumnavigates the island and is dedicated exclusively for cycling, great restaurants, sandy beaches and tropical weather, the event is a cycling marathon in paradise.
GFNY Chile will close out the GFNY year in Casablanca near Santiago on November 25, in one of Chile's great wine valleys, Valle Central. The course boasts one of granfondo cycling's steepest climbs – El Muro de Tunquen tops out at 30%. The world-renowned Casona Vermonte is the host of the start and finish of the race, and offers wine tastings, exquisite meals and tours during and after the race for families and riders.
About GFNY
GFNY is the global cycling marathon brand with events held in NYC, Bali-Indonesia, Brazil, Chile, Colombia, Costa Rica, Germany, Samosir-Indonesia, Jerusalem-Israel, Cozumel-Mexico, Monterrey-Mexico, Panama, Poland, Portugal and Uruguay.
Riders get to BE A PRO FOR A DAY by competing against others, themselves and the clock in a personal endurance challenge.
At all GFNY events, riders have the chance to qualify for the elite racer corral at the GFNY World Championship in NYC by placing in the top 10% (20% at regional championships) of their age group.
Campagnolo GFNY World Championship NYC
The 8th annual Campagnolo GFNY World Championship New York will be held on May 20, 2018. The race features the world's most international peloton with riders from over 90 countries. Athletes take on a challenging 100-mile route from NYC to Bear Mountain to Fort Lee to compete against each other, the clock and themselves in a personal endurance challenge.
The official GFNY website is: www.gfny.com.
GFNY World 2018 calendar
4 February GFNY BALI
25 February GFNY LATIN AMERICA CHAMPIONSHIP MONTERREY
18 March GFNY COLOMBIA
18 March GFNY URUGUAY
22 April GFNY COSTA RICA
27 April GFNY MIDDLE EAST-AFRICA CHAMPIONSHIP JERUSALEM 
20 May GFNY WORLD CHAMPIONSHIP NYC
27 May GFNY POLSKA-GDYNIA
5 August GFNY BRASIL
2 September GFNY EUROPE CHAMPIONSHIP DEUTSCHLAND 
2 September GFNY ASIA CHAMPIONSHIP INDONESIA-SAMOSIR
9 September GFNY PORTUGAL
21 October GFNY PANAMA
11 November GFNY COZUMEL-MEXICO 
25 November GFNY CHILE
Further Material for Media Use
Animation: here
Calendar graphic: here
GFNY photo archive (credit SPORTOGRAF): here
Previous GFNY press releases: here
Media Contact
Gran Fondo New York Inc.
Uli Fluhme
Phone: +1.212.933.4033
Email address:  uli@gfny.com