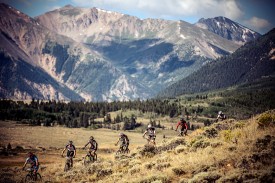 LEADVILLE, COLORADO (January 11, 2016)—Guts, grit and determination is what it takes for most participants to enter and compete in any of the ten events in the Blueprint for Athletes Leadville Race Series, owned and produced by Life Time – The Healthy Way of Life Company. The series of legendary ultra-distance events, known for challenging courses and distances at high elevations, opens for registration today to all who aspire to push themselves in ways they never thought possible.
One of the most exciting races returning for its second year—and expected to sell out quickly—is the Leadville MTB Stage Race. The Stage Race format allows athletes of all abilities to experience the famed Leadville 100 MTB course split over three days, and offers more experienced racers the opportunity to preview the course, train at high altitude, put the hammer down and snag a qualifying entry for the Leadville 100 MTB race.
The challenge and allure of these grueling and life changing events is what, has drawn competitors to the Leadville Race Series for the past 34 years.  Registration is now open for the entire list of events and training camps, including: 
Mountain Bike Events:
Run Events:
Lottery selections for the 23rd annual Leadville Trail 100 MTB, set for August 13, and 34th annual Leadville 100 Trail Run, set for August 20, were announced last Friday, Jan. 8. All 2016 lottery entrants, whether successful or unsuccessful, have been notified via email at this time.
About Leadville Race Series
Started with only 45 runners as the Leadville Trail 100® in 1983, the Leadville Race Series now consists of six running events, the Leadville Trail 100 mountain bike race, and six mountain biking events in the Leadville Qualifying Series. The Race Series stretches across three months, and hosts thousands of racers on foot and on mountain bike in some of the world's most iconic events. Endurance athletes worldwide now make the pilgrimage to Leadville, Colo., with the single goal of competing in "The Race Across the Sky." Visit http://www.leadvilleraceseries.com for more information. 
About Quest Diagnostics
Quest Diagnostics empowers people to take action to improve health outcomes. Derived from the world's largest database of clinical lab results, our diagnostic insights reveal new avenues to identify and treat disease, inspire healthy behaviors and improve health care management. Quest annually serves one in three adult Americans and half the physicians and hospitals in the United States, and our 45,000 employees understand that, in the right hands and with the right context, our diagnostic insights can inspire actions that transform lives. www.QuestDiagnostics.com. 
About Life TimeSM, The Healthy Way of Life Company
Life Time is a privately held, comprehensive health and lifestyle company that offers a personalized and scientific approach to long-term health and wellness. Through its portfolio of distinctive resort-like destinations, athletic events and corporate health services, the Healthy Way of Life Company helps members achieve their goals everyday with the support of a team of dedicated professionals and an array of proprietary health assessments. As of November 2, 2015 the company operates119 centers in 26 states and 35 major markets under the LIFE TIME FITNESS® and LIFE TIME ATHLETIC® brands in the United States and Canada. Additional information is available at www.lifetimefitness.com.
# # #