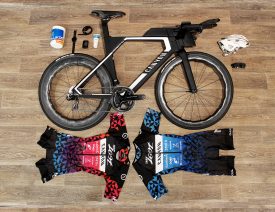 Premium brands join with Zoot to support the over 400 athletes now a part of Team Zoot.
January 16, 2018 – Carlsbad, Calif. –  Zoot Sports, triathlon's original apparel brand, is welcoming over 400 new athletes to Team Zoot 2018.  Originally established in 2008, Team Zoot represents what being a triathlete is all about; Ohana.  Made up of athletes from every level, beginner to Kona qualifier, Zooters are a friendly bunch who train and race hard but also enjoy the journey.
"The athlete is the center of our sport, and because of that, at the center of our brand," says Shawn O'Shea, Owner, Zoot Sports. "Being the 10th anniversary of the team, we knew we wanted to expand, but we never expected this. With over 1500 applicants, we were all extremely impressed by the quality of athlete that wanted to represent the Zoot brand and it's partners. The team is full of passionate triathletes, the kit is incredible, and our partners are the best of the best. We cannot wait to kick off our 10th anniversary season."
Additionally, Team Zoot will be supported by an incredible stable of some of the industry's most elite brands. 2018 partners include Canyon, Garmin, Smith Optics, Zealios Skin Care & Sun Protection, Speedfil Products, Glukos Energy, Ottolock, Footbeat, ORR Carbon Wheels and BOCO Gear.
Of the new partnership, Blair Clark, President, Canyon Bikes USA says, "Canyon is a global force in triathlon, so partnering with an authentic brand like Zoot makes perfect sense for us. Zoot shares our passion for innovation, and having neighbors like them is a key benefit of choosing the triathlon mecca of Carlsbad, CA for our headquarters here."
Split into geographic regions, the US team will be led by 12 team captains who will head up organizing the activities and building the community in each area.  Throughout 2018 team members will be sporting limited edition Zoot Custom race kits and training gear on and off the course.  To keep up with the 2018 Team Zoot activities, visit zootsports.com and follow @zootsports on Facebook.
###
Founded in Kona, Hawaii, in 1983, Zoot Sports specializes in triathlon training and race day apparel.  Zoot has grown to be a global premier endurance sports brand, distributed worldwide and is the creator of the first triathlon-specific footwear line.  Zoot continues to draw on its history in the sport and its athletes to deliver the most comprehensive, technologically-advanced, and complete multisport product line in the world. Visit Zoot online at zootsports.com.