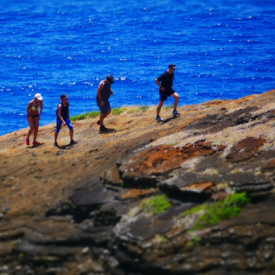 Honolulu, HI – September 12, 2017 – As the adventure tourism industry continues to grow, Xplorer Fitness Challenge has created a unique series of unforgettable challenges over land and sea on the island of Oah`u. It is an exclusive luxury-minded multisport experience that cannot be replicated anywhere else. Their goal is to offer a blend of challenges that encompass extreme endurance activities that balance all the amenities of a luxury holiday with the grit of an authentic adventure.
While providing fully supported day trips and multi-day trips allowing participants to experience the island in a completely unique and unprecedented way, Xplorer Fitness Challenge has launched a singularly demanding experience, the 1-Day Epic Adventure Challenge.
For this 1-Day Epic Adventure Challenge, participants can expect a grueling course and plenty of transitions on a route that will include 4000ft of elevation change, and cover 17+ miles of overland and nautical distance with the tropical sun most likely a constant companion.
Other experiences offered by Xplorer Fitness Challenge are the all-inclusive 3-Day, 4-Day, and 7-Day Adventure Challenges. The 1-Day Epic Adventure Challenge is incorporated in these Multi-Day Adventure Challenges. At the end of each adventure challenge day, participants will be rewarded with luxurious accommodations where they will rest their heads on lush pillows, enjoy massages to treat their weary bodies, and savor thoughtfully crafted meals to replenish lost calories from conquering challenges under the hot sun.
The Multi-Day Adventure Challenges are all-inclusive trips with adventure challenges that will sweep you from the lava rocks of the easternmost point of Oah`u, to the famous wild waters of the North Shore, and the highly acclaimed shoreline of Kailua. Also included is the infamous steep trail ascent of Pu`u Manamana and the secluded Kawela Bay. Participants can expect an extremely challenging course and plenty of transitions on a route that will include up to 13,000ft of elevation change and cover 79+ miles of overland and nautical distance.
Dianne San Luis, managing director, adds "Xplorer Fitness Challenge is forging its identity within this market by providing an unforgettable experience that is not easily replicated: jagged mountain ascents and off-the-beaten-path trail runs; challenges on infamous white-capped Hawai`ian waters with a SUP, kayak, one-man outrigger canoe, and surf; and a breathtaking bike route flanked by fluted mountain ridges and temperamental ocean waves. We want guests to walk away recounting their accomplishments and bragging rights at having finished one of the toughest multisport challenges on Hawai`i…all while being rewarded by comfort and luxury at the end of a grueling day."
One particular accomplishment that has become a favorite story among the guests and staff of Xplorer Fitness Challenge is the 1-Day Epic Adventure Challenge with six Navy deep-sea divers. Dianne recalls: "As these divers are men who protect our country in precarious situations that can inculcate a tender heart into a hardened calloused character, the camaraderie took precedence over competitiveness among the six divers throughout the entire eight hours of arduous overland and sea challenges. Their willingness to slow down for another man to encourage him to go harder and faster was inspiring. When all was over, the men settled down side-by-side proudly reminiscing about the activities from their day-long adventure. Moments like these are gifts that fuel the desire for Xplorer Fitness Challenge to provide experiences that become permanently etched memories passed down like heirlooms for all of our guests."
Xplorer Fitness Challenge is poised to find success based on current market trends. In 2015, the adventure tourism industry generated revenue of $7.88 trillion and is anticipated to produce a Compound Annual Growth Rate (CAGR) of more than 46% by 2020. Tourism is rapidly evolving from laying on a beach towel to high-risk adventurous activities such as skydiving, surfing, mountaineering, deep-sea diving, and glacier trekking.
There are plenty of successful and long-standing examples of luxury travel providers that have succeeded in proving that people will pay a premium for a successful blend of exceptional service and unique experiences. For example, Nimmo Bay was one of the world's first eco-lodges, opened by the Murray family in the early 1980s, and owned and operated by them still today. They allow guests the opportunity exploring from sea level to 7,000 feet, watching orcas or bears, kayaking among salmon and sea lions, or soaring high into the mountains in a helicopter to hike remote landscapes. Their prices range upwards of $2600.00 to $3500.00 (Canadian dollars) per person, per day for their unique offering and venue.
There is also evidence that taking on extreme challenges has very quantifiable benefits to overall mental health and stress management. Endurance sports cultivate a growth mindset, or an overall perspective that "recognizes the natural human capacity to grow during times of stress," says Kelly McGonigal, a world-renowned health psychologist whose forthcoming book, The Upside of Stress, challenges the prevailing wisdom on the topic. Instead of seeing stress as something negative and to be avoided, McGonigal says that we should learn how to embrace it.
"The most toxic thing about stress is not stress in and of itself," she says, "but rather, stress avoidance and the subsequent angst and rumination of always trying to avoid stress." In contrast, she says, if "you build the inner resources to deal with stress, confronting it can lead to personal growth and add meaning to your life…Through endurance sports, you are learning to see yourself as someone who can choose to engage in difficult things, get through them, and evolve in consequential ways."
Xplorer Fitness Challenge offers rigorous and unique adventure challenges, taking advantage of all the rugged terrain and beauty found on O`ahu.
It has been described as a "personal odyssey" and multisport adventure challenge that will redefine endurance sports on Hawaii.
Xplore Your Limits!
Group sizes are exclusive to 6 to 10 participants.
Find us on:
Facebook – Xplorer Fitness Challenge – Hawaii
Instagram – Xplorerfitnesschallenge_hawaii
Twitter – Xplorer_Hawaii
Vimeo – https://vimeo.com/xplorerfitnesschallenge
Website: Xplorer Fitness Challenge