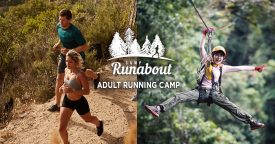 An All-Inclusive Summer Camp For Adult Runners In The Pocono Mountains
Henryville, PA – The ultimate sleepaway camp for grown-up runners and fitness enthusiasts is now taking reservations for a weekend of fitness and fun this fall (Sept. 21-24). Camp Runabout, a 200-acre playground in the Pocono Mountains, is offering an all-inclusive camp experience that will take adults back to the summers of their childhood. Just as they did as kids, adult campers will enjoy all the typical camp activities such as paddling a canoe, taking a swim or zip lining through the treetops. This time around, however, they can start their day with a mimosa and end it with a glass of wine around the campfire.
Camp Runabout is the creation of former professional runner Bill Reifsnyder.  Winner of the 1989 and 1991 National Marathon Championships, Reifsnyder has more than 20 years of experience in the sports and active lifestyle arena. He came up with the idea for Camp Runabout because he wanted a place where runners and active adults could combine their love of fitness and fun. "At Camp Runabout runners can act like a kid with all the benefits of being an adult," says Reifsnyder. "Campers will run in the morning, play all day and sit by the campfire at night. My hope is that by the end of camp, they will feel rejuvenated and go home with a new group of lifelong fitness friends."
Campers will also hear from nationally recognized motivational speakers. USA Olympic Distance Runner, Carrie Tollefson, and two-time USA Olympic Distance Runner, Todd Williams, will share their inspirational stories of success, overcoming obstacles and balancing their busy lives and their love of fitness.
About Camp Runabout:
Camp Runabout is an adult summer camp for runners age twenty on and over. The inaugural camp will be held September 21st – 24th at Camp Lindenmere in Henryville, PA.  Camp Runabout will be an annual event with additional weekends and locations in subsequent years.
facebook: Camp Runabout  instagram: Camp Runabout  twitter: Camp Runabout
For media inquiries, please contact Valarie Sukovaty at 714-308-5208.