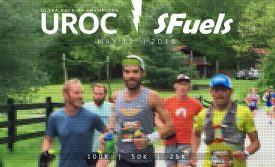 Ultra-Race of Champions 2018 - Endurance industry world-first - low-carb aid-stations with SFuels.
Ultra Race of Champions, UROC 2018 will go down in history of our sport as the beginning of a revolution to ultra-endurance race events.  For the first time in our sports history, an ultra-marathon race will be offering both low-carb high-fat AND standard higher-carb fuels and foods at aid-stations.
Bad to the Bone CEO, Francesca Conte comments, "We've run UROC for many years now, but this year's race, will be the first race worldwide to ever offer a mix of low-carb, higher-fat foods and fuels in our aid-stations like Peanut butter low-carb wraps, Almond butter low-carb wraps, Cream cheese low-carb wraps, nuts, Peanut butter energy balls, cucumber sticks with salt and Spike-FREE's SFuels ultra-endurance drinks and bars."
"UROC 2018 is a leadership race, and a great start, but we want to send a message to all athletes, race directors, and coaches – that you should ask for fuel choices at Ultra-endurance race aid-stations," says Nicole Phillips, Marketing and Operations Director, at Spike-FREE. "UROC 2018 gets us started, and we will soon be launching an industry wide effort to take low-carb fuels in endurance-races, much broader – athletes are looking for more stable energy fueling, without GI/gut distress and lowered inflammation – so its high-time we help race organizers and athletes have a choice beyond high-sugar based fuels."
As a special offer to all UROC 2018 athletes and in preparing endurance athletes for upcoming race days, SFuels and Spike-FREE are offering a Race-day Preparation offer, of FREE SHIPPING and MONEY-BACK GUARENTEE to all orders up until race-day.
Learn More HERE:  http://www.spike-free.com/uroc-ditchsugarfuels
CONTACT
Nicole Phillips, Marketing and Operations Director
support@spike-free.com
ABOUT
Spike-FREE is about Going Longer.
Going-Longer is an objective for all endurance athletes, and health-minded consumers throughout the world. But how we train, eat and live now, affect not only our performance today, but also our future wellbeing, and the longevity of our ultra-endurance lifestyle.
For many athletes, the ultra-endurance lifestyle includes years of high-carb food during training and racing…and as research shows us, high-carb-sugars and lifestyles, can trigger acute inflammation now, and be responsible for longer-term, more chronic health conditions. Our focus at Spike-FREE is to produce products for the endurance athlete that adresses these issues – by being focused on a more low-carb highfat formulation in our SFuels drinks and bars.  Ultras…it's about going long. Make your ultra lifestyle last, with Spike-FREE.  Manufactured and distributed from California, USA. Managed by Australians, based at our worldwide headquarters, in Clearwater Bay, Hong Kong.