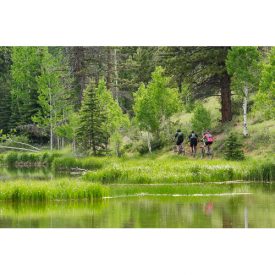 Southern Utah University Graduate Finds a Place With UltrAspire
UltrAspire, a leader in hydration and outdoor gear announced a new Marketing Director position filled by Southern Utah University graduate Joe Petty. UltrAspire selected Joe to implement PR tactics and marketing plans for their state of the art hydration and lumen series products. UltrAspire owner and founder, Bryce Thatcher, has been on the cutting edge of hydration since the mid 1980's and was nicknamed the "father of hydration" after he invented the first ever hydration race vest for endurance athletes. Today Bryce is still developing products that revolutionize the outdoor world in not only hydration and lighting but non-disposable and convenient outdoor gear.
Joe is a graduate from Southern Utah University class of 2017 with a Bachelors Degree in Strategic Communication and a Public Relations emphasis. During his time at the university Joe had his hands involved with many projects and outside internships to prepare him experience wise for what UltrAspire tasked him with.
"For adventurers, UltrAspire is the only gear innovator that offers legendary designs and personal service for an inspired outdoor experience!" said Bryce. This is the company message that Joe hopes to help share with consumers. "I'm happy to work for a company that has such a hand in pioneering an industry all over the world, it's exciting to be able to contribute to the growth of a company like that," said Joe.
Joe will work with the rest of the team at UltrAspire to share the brand experience with new adventurers and reinforce that experience with existing customers. Top-notch strategy and tactics will be employed to help share the UltrAspire vision with new audiences who may not have had the chance to experience UltrAspire.
About UltrAspire:
UltrAspire is a high-performance, innovative outdoor gear company. From competitive endurance sports to the casual adventurer, UltrAspire keeps to a very important code which is to create an inspired outdoor experience. Gear up with UltrAspire and experience the difference at www.ultraspire.com