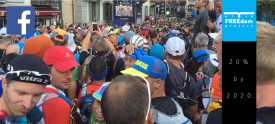 GOAL: 20% of Ultra-marathon and triathlon races to offer low-sugar fuel-Choices, by 2020.
In an industry ground-breaking move, Ultra-Race of Champions (UROC), the annual US 100km-50km ultra trail run-race,  to be held on May 12, 2018, have decided to 'drop the sugar-shackles', and bring back 'choices' for athletes beyond hyper-sugar options in aid-stations.  More insight into this further below.
This is the beginning of the 'ultra-FREEDOM Project' a community movement for 20% of all ultra-marathons and Long distance triathlons to give athletes FREEdom of low-carb fuel choices, by 2020.
The rise of distance running, marathons in the 70s and the US triathlon race series in the '80s was largely bankrolled by the beverage industry.  In the case of triathlon, the leading sports drink of the time 'Gatorade' and Bud-Light Beer were major players.  At that time, products like Gatorade were the go-to drink for athletes in racing and training, and for many sports. Within a short time, there came many emulators, producing similar sugar-laden drink products under various '…ade' brands.  By 2014, the leading producers were selling more than 20 billion liters of sports-drinks globally and in the US alone, almost 1 billion liters.
Well, it probably goes without saying but hyper-sugar consumption triggers higher risks of diabetes, cardiovascular disease, and chronic inflammatory diseases.  However, how hyper-sugar consumption is affecting endurance athletes (in racing and training) is only now – becoming more widely acknowledged and reported on.
This won't change overnight – but there's a broad interest in forming a movement, to go after this change.  
Race Director, CEO of Bad to the Bone sports (ultra-endurance race management company) and winning ultra-marathon runner, Dr. Francesca Conte doesn't see this as a maybe, but in her words, "this is a must-do for not only our industry – but for both the longevity of the athletes for which our industry runs, and in being ethically responsible for their health and wellbeing in these extreme feats of endurance."
To enable the community of athletes, race directors and coaches to come together and get behind the "ultra-FREEdom project" movement, a community Facebook group (https://www.facebook.com/ultraFREEdomProject/)  has been launched to facilitate athlete education, industry communication, and ultra-athlete-crowd-sourcing to drive change and choice through endurance-races across the world.
To read the full blog article and get involved behind the movement, learn more here. https://bit.ly/2JbUKo3