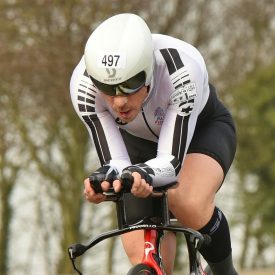 Performance gains from Altium i10 specialist altitude simulator device
Glasgow, UK (15th March 2017) – Kev Dawson, an icon in the British time-trial community, as an 11-time British Best All-Rounder (BBAR), has given his feedback on the Altium i10 specialist altitude simulator device. Now migrating from time trial cycling to triathlon, Kev Dawson, who is sponsored by HUUB Design for his apparel and wetsuit needs, recently put Altium i10 through its paces and was positively surprised by the performance results he obtained.
Kev Dawson said, "Altitude training has always been of interest to me. When I saw the Altium i10, which offered a convenient way into the altitude world without sleeping in a tent or spending time away from home, I had to give it a try.
"I started using the Altium after my usual short winter break. Yes, I'd lost a little bit of fitness but was still moving really well on the bike, running consistently and swimming OK. Having the means to test myself was ideal; so, I did a test on the bike and run and set some benchmark figures which were pretty good."
Kev continued, "I used the device every other day and found it no inconvenience at all; watching TV and chilling gave me a rare chance to get my feet up, which was nice. I did fall asleep twice mid-session though but that was probably because I was so relaxed!
"It didn't take too long for me to feel the positive effects of the new training regime. The first thing I noticed was my breathing definitely improved. It also converted well – helping with my breathing in the pool and on my runs. My form also picked up much quicker than usual and I was training well in all disciplines. Another thing I did notice was my recovery was a lot quicker and the down-time after hard sessions (especially on the run) decreased; so I was able to put in a bit more volume."
He added, "After six weeks I decided to re-test my numbers on the bike and treadmill speeds on the run. After the same test my feelings were confirmed, 26 watts on the bike added at threshold and just under 1.5km/h added on the treadmill at threshold speed. I will definitely be using the Altium again in the build-up to my A-race targets in 2017. I found it an affordable and easy device to use with some great back up and support."
The benefits of altitude simulation for endurance sport performance have been well-documented; and Altium i10 offers athletes a portable solution for those who cannot spend extended periods at altitude.
Dean Jackson founder of HUUB Design said "It's great that as supporters of some the world's best athletes we can also share our network to deliver further performance gains. Altium i10 approached us to understand the needs of our athletes; and as a result we now find an athlete within the HUUB camp benefiting and able to push the boundaries of performance."
Alan Montgomery, Director at Altium i10 said, "2017 is looking like a really exciting year for Altium i10. We're really pleased to receive such positive feedback from an athlete of Kev Dawson's stature, and we wish him all the best for his race season this year."
Expanding on the benefits of Altium i10, Montgomery added, "It's well understood that improving oxygen uptake is key to boosting cardiovascular fitness. So, Altium i10 works to simulate altitude – boosting oxygen efficiency and, in turn, endurance performance.
"Typically, over a period of 28 days, with an athlete using the device for one hour a day, every other day, the body adapts to improve oxygen flow to the muscles." He continued, "From improved time-trial performances, running-time-to-exhaustion through to sub-maximal cycling power, there are many endurance sport benefits for the athlete."
Altium i10 has built a following across the wider sports and outdoor fitness communities over the past 18 months. The brand sponsors the BMC-Etixx Pro Triathlon Team, Callum Hawkins, who finished ninth in the Rio 2016 Olympic Marathon, and his Olympian brother Derek Hawkins. Other sponsored athletes include 2015 British Half Marathon Champion and English 10,000m Champion Jess Coulson.
For more information on Altium i10, visit www.altium-i10.com.
– ENDS –
Altium i10 and athlete photos & logos are attached. 
About Kev Dawson
Kev Dawson was the British Best All-Rounder (BBAR) in 1992-93, 1997-99, 2001-04 and 2006-07. Organised by Cycling Time Trials, BBAR is an annual British time trial competition that represents the pinnacle of time trial racing in the UK. It ranks riders by average speed in individual time trials, over 50 and 100 miles and 12 hours for men, and over 25, 50 and 100 miles for women. 
About Altium i10
Based in Glasgow and officially launched in September 2015, at the Cycle Show in Birmingham, UK, Altium i10 has been making waves across the endurance sport community in recent months. Altium i10 is currently being used by keen amateur athletes competing at age-group level, along with elite cyclists, runners and triathletes aiming for the Olympic Games and the pinnacle of their chosen international sport.
Brand ambassadors include: the BMC-Etixx Pro Triathlon Team powered by Uplace; Rio 2016 athletes Callum & Derek Hawkins (marathon); Lee Jones (rugby); Hannah Miley (swimming); and former British Half Marathon Champion Jessica Coulson.
Unlike altitude tents or other simulators that can be priced in the thousands, Altium i10 is priced at £499 (US$600). This includes the device and cartridges for the main 28-day altitude simulation phase. Cartridges typically last two to three sessions and can be bought separately at £10/$12 per unit. A free iPhone app works with the device to analyse and track progress. Altium i10 is billed as 'the performance edge you have been searching for'. It offers a way of physically stressing the body to simulate altitude without overloading the body. It is a convenient and alternative method to deliver the endurance benefits of being at altitude.
www.altium-i10.com
twitter.com/altiumi10
facebook.com/altiumi10
Contact details:
Alan Montgomery, Director
Altium i10 – the performance edge you have been searching for
+44 (0)7718 917105
alan@altium-10.com