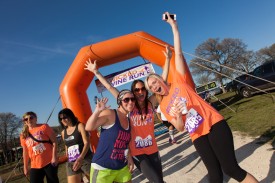 Being a successful race director used to mean embracing a certain amount of uncertainty and being very comfortable with estimates—about how many t-shirts to purchase; a guestimation of how many water bottles, etc.
With data-powered decision making ruling every industry from aviation to retail, guesswork is officially a part of race director history. Your most successful race will be the one where you have the most useful information, specifically knowing where your participants are coming from.
Since we've introduced ACTIVE Network Activity Cloud™ to our race director customers, one thing we've consistently heard is that race directors were guessing where the people who ran their races lived. This is important information to have for a lot of reasons, but mainly these three:
1. Knowing where to market.
When you're trying to fill your races and sell merchandise, every single marketing dollar should be well-spent. That's why marketing generally to a major metropolitan area isn't precise enough to get you the results you need. Every major metropolitan area consists of tons of smaller suburbs and municipalities, not to mention other cities in commutable distance. Just because you're planning a race in Chicago doesn't mean that all of your participants live in the city. What if you knew that most of your registrants were coming from Evanston, or even as far as away as Milwaukee?
That's what the organizers of the Wicked Wine Run discovered after using Activity Cloud to see where registrants actually lived, especially for towns where they were less familiar.
"We live in Texas, so far all the major cities that we operate in we have a good idea
of the surrounding towns and suburbs to market to," said Krys Davis of the Wicked Wine Run. "When we go to places we're not as familiar with, for instance New Orleans, we advertise in and around the city. While using Activity Cloud, we saw that New Orleans isn't even on the top three participant cities that registrants are joining us from. They're mostly coming from Baton Rouge, and we're not even advertising there. So we completely changed our marketing strategy."
2. Knowing where to expand your event.
Most race directors start their events in their hometowns, and for good reason. You know the region, you are filling a need you've observed and you have a network of friends and family to tap. But what if you noticed that most of the registrants for your hometown 5K were not actually coming from your town, but a city a couple hours away?
In the past, race directors would decide where to expand their event based on lots of information about the town, but not based on information about their actual registrants. For the Wicked Wine Run organizers, they were able to see that their popular Austin event was actually full of registrants from nearby San Antonio, Texas.
"When we did the most recent Austin race, we were easily able to see just how many people came from San Antonio in Activity Cloud," Davis explained. "Prior to using Activity Cloud, we'd have to download spreadsheets, so it was just a lot more time-consuming and we didn't track the data as often. As soon as we saw the amount of San Antonio residents in the Austin event, we knew we needed to try harder to put a race in San Antonio."
3. Knowing where to position packet pick-up.
You're not just trying to fill races—you're trying to create repeat customers. That's why every aspect of your interaction with racers should be tailored to their convenience and enhancing their convenience. Just as with the examples above, relevant data, like where registrants actually live, is uber-helpful in mapping a pleasant packet pick-up experience for participants.
"About 80 percent to 90 percent of our races are done at vineyards. We really like to keep events at cool places," said Davis. "Those places are not usually within the major cities. We will look at Activity Cloud data and put the packet pickup in a location where the majority of our runners are coming from."
Learn More about ACTIVE Network Activity Cloud
Don't miss more endurance news, tips and best practices. Subscribe to the blog now.