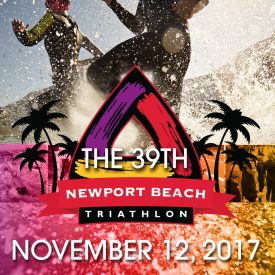 World's Longest Running Triathlon is Back on November 12th, 2017
Newport Beach, CA – This Sunday November 12th, the Newport Beach Triathlon will return for its 39th year, continuing as the longest running triathlon in the world.  In 2017, Hoag Orthopedic Institute was announced as the Official Medical Sponsor of the event.  This partnership brings a strong local connection with the triathlon, as does the official Medical Director of the event, Hoag's own Dr. Emilia Ravski.
Dr. Ravski's connection to the Newport Beach Triathlon extends beyond her work with Hoag, as she was  a member of the UC Irvine women's crew team.  UCI Men's and Women's Crew has been the longstanding official charity of the triathlon and it seems to be the perfect fit.  In speaking with Dr. Ravski, she echoed these sentiments.  "It's an honor to serve as the medical director for this longstanding event, and to be entrusted to organize and manage the care of this year's participants. I am looking forward to this triathlon and I am very excited about my involvement in ensuring its safety."
"Participating on UC Irvine's women's crew for four years, it significantly shifted my collegiate experience and impacted my career choice. I love rowing! My teammates to this day are some of my closest friends. I became interested in learning more about sports injuries because of my rowing experience, and that led me down the path of becoming a sports medicine physician. My words of encouragement to the younger UCI Crew members is to enjoy each day of rowing, no matter how early or grueling it is. Your college years will go by really fast but just know you are building relationships and skills that will last you a lifetime," said Dr. Ravski.
Race Director and CEO of Pacific Sports, LLC Jack Caress added "We're very excited to have Hoag Orthopedic Hospital as our medical sponsor this year. Hoag Hospital is an institution in Orange County and a perfect connection for the Newport Beach Triathlon.  To have Dr. Ravski, along with her association with the UCI Crew program as our official medical director, it adds to the strong local ties this event has held for decades.  We couldn't be more pleased."
For nearly four decades now, triathletes from throughout California and across the nation have traveled to this beautiful oceanfront town to compete in the Newport Beach Triathlon.  The event, steeped in history, has been a constant as the sport of Triathlon has evolved over the decades.
This triathlon course along the Newport Beach Back Bay offers a beautiful and easily accessible area for both participants and spectators to enjoy.  The event's host hotel, the Hyatt Regency Newport Beach, is immediately adjacent to the race site and allows participants the ability to roll-out-of-bed to the starting line.  They Hyatt also hosts the pre-event Expo on Saturday, November 11th.  Convenient parking at the Newport Dunes and a short walk to their Back Bay Bistro for post-triathlon food and beverage also makes this a wonderful location for the Newport Beach Triathlon.  Local sponsors include Avila's El Ranchito, Triathlon LAB, ROKA, and Arrowhead Water.
About Pacific Sports
Based in Anaheim, California, Pacific Sports LLC has been a premier sports consulting and marketing firm for over 35 years. The company specializes in event development, production, management, and sports branding in participatory lifestyle events including triathlon, running and cycling. Pacific Sports owns and produces six events annually including the Brooklyn 15k, Cleveland Triathlon, Long Beach Triathlon, Newport Beach Triathlon and the U.S. Open Triathlon in Rockwall, Heath, and Dallas Texas. The firm has produced more than 430 endurance events in the United States, including the 1996 Triathlon World Championships in Cleveland, Ohio, 12 U.S. Championships and was the founder of Triathlon Business International.
UC Irvine Rowing
UC Irvine Rowing is a highly competitive club sport that races against both NCAA and club teams from across the United States. UCI Rowing was one of the school's founding intercollegiate sports and has a long line of exceptional student-athletes. UCI has sent over six athletes to compete for the United States in the Olympics. They row locally out of their boathouse on Shellmaker Road located in Newport Beach, CA, next to the Back Bay Science Center.  This unique sport demands teamwork, focus, and determination. As a result of training in this ambitious atmosphere, these student-athletes grow to be distinguished individuals within the community. For more information on the team, please visit http://ucirvinewomensrowing.weebly.com/ or their Facebook page at http://www.facebook.com/uciwomensrowing.
Hoag Orthopedic Institute
Hoag Orthopedic Institute (HOI) is located in Orange County, California. It consists of a specialty hospital located in Irvine and two ambulatory surgery centers: Orthopedic Surgery Center of Orange County in Newport Beach and Main Street Specialty Surgery Center in Orange. HOI has more than 300 physicians on staff, including more than 80 orthopedic specialists. HOI physicians were instrumental in establishing Hoag Orthopedics, a non-profit founded by physicians for the purpose of conducting research, education and identifying leading-edge clinical care improvements. HOI ranks in the 99th percentile for patients' likelihood to recommend the hospital and 98th percentile for overall hospital rating, according to Press Ganey's national database of hospitals. HOI focuses in the treatments of the knee, hip and spine disorders, and takes pride in specialty care related to sports medicine, orthopedic trauma and extremities care. Since opening in 2010, HOI's hospital has been named by U.S. News & World Report and Becker's Orthopedic, Spine & Pain Management Review as one of the top orthopedic hospitals in the nation. HOI was recognized by the Centers for Medicare & Medicaid Services (CMS) as one of 112 hospitals nationwide, and one of 10 in California to earn the highest, five-star rating for overall quality of care. HOI was also rated a "Best Places to Work" by Modern Healthcare in 2016 and 2017. For more information, visit www.orthopedichospital.com.