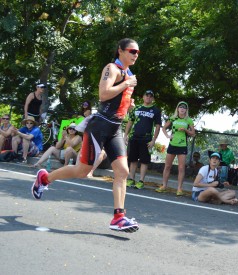 (Kailua-Kona, HI)– A stellar run and Kona experience propelled Rachel Joyce across the finish line second at the 2015 IRONMAN World Championship on Saturday. The Human Interest Group congratulates Joyce for a career-defining performance that delivered her third podium win in as many years at the iconic triathlon race.
Joyce's remarkable performance during the always tough day in the lava fields demonstrated her consistent power in each of the three disciplines. Experience from previously racing six IRONMAN world championships (placing 6th in 2009, 5th in 2010, 4th in 2011, 11th in 2012, 2nd in 2013, and 3rd in 2014) also gave Joyce invaluable wisdom about sustaining her physical momentum and mental focus on the challenging course.
"A podium finish is an absolute amazing accomplishment for any professional at the Ironman World Championships. But to show these kind of consistent performances year-after-year in Kona is what should be defining Rachel's stature in the sport, commented Franko Vatterott, founder of Human Interest Group.  She has many other significant wins at the premier long distance races, but there is only one Ironman Hawaii and Rachel's 2015 race plus her streak of 3 podiums in a row there is simply remarkable."
A formidable swimmer, Joyce exited with the lead pack at 56:11 (1:27/1oom) and began the bike leg at the front. Joyce steadily moved past other competitors over the long ride, ending the bike with a 5:01:29 (23:39 mph). On the run, Joyce battled the course elements and solidly paced to cross the finish line with a 3:08:42 run time (7:17/mi), resulting in the total race time of 9:10:59.
After placing 3rd at the 2014 IRONMAN World Championship, Joyce doubled-down on returning to the Kona podium despite a mid-season injury.  A member of the newly formed Team Bravo, Joyce's disciplined training regimen, patience with her injury and well planned competition schedule – including finishing 3rd at the IRONMAN Texas and 2nd at Challenge Bahrain – helped bring her to Kona well-conditioned for the ultimate victory in triathlon.
A professional triathlete since 2008, Joyce adds the 2015 IRONMAN World Champion 2nd place to a resume that already includes four top ten finishes in Kona, an ITU Long Course World Championship, and several of the sport's highest profile races. Joyce lives year-round in Boulder, CO.
Joyce is part of the HIG's Professional Triathlon global roster that includes 3x IRONMAN World Champion Craig "Crowie" Alexander, multiple XTERRA World Champion Lesley Paterson, Olympians and 70.3 Champions Tim Don and Radka Vodickova, Canadian Super Couple Heather and Trevor Wurtele (Team Wurtele), Next Gen Champ Sam "Appo" Appleton, Paul "Barny" Matthews, and young phenomenon Mauricio Mendez.  One of three dynamic ventures hosted by HIG, Professional Triathlon focuses on developing brand partnerships within the triathlon industry and managing the world's top professional triathletes.
Visit www.professionaltriathlon.com for athlete bios and more information on building meaningful relationships.
For inquiries concerning athletes represented by Human Interest Group, please contact  info@humaninterestgroup.org.
About Human Interest Group
The Human Interest Group (HIG) is a sports marketing agency and business development firm focused on crafting unique and highly impactful projects between world-class endurance athletes, forward-thinking brands and active consumers. We have designed, executed and consulted in cutting-edge campaigns for organizations of all sorts and sizes–from start-up products to large corporate labels to foreign governments. Traditions fade. Standards evolve. Innovators thrive. Join the journey forward at www.professionaltriathlon.com.
Media Contact
The Human Interest Group
info@humaninterestgroup.org
http://professionaltriathlon.com
Twitter: @BoulderCartel
Facebook: The Human Interest Group