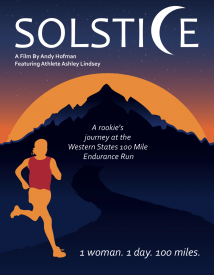 1 Woman. 1 Day. 100 Miles.
Soul Focus Productions, the creative arm of Soul Focus Sports, an industry leader in management and events, has partnered with HFrame Studio to release the documentary "Solstice." An official selection of The Wild And Scenic Film Festival and The Artemis Women In Action Film Festival, "Solstice" tells the story of rookie Ashley Lindsay's attempt to finish the Western States 100 Mile Endurance Race in California's Sierra Nevada mountains.
"I'm really excited to work with Soul Focus to help get "Solstice" out into the world," explained Andy Hofman, the film's director. "With this project I wanted to tell a story of a normal person attempting to achieve something that seems impossible to most of us, told through the lens of an incredibly difficult and beautiful race. Ashley was a perfect subject because she's not a professional, she doesn't look like a distance runner at all… she's a working mom with hardly any time to train! Her story is meant to motivate all of us to attempt something we never thought we could accomplish in our own lives."
J.T. Service, CEO and Founder of Soul Focus, expressed his passion for the partnership. "Andy is an amazing film maker, Ashley is an inspiring muse and we can support the project with distribution to the endurance and outdoor industry. It's a perfect partnership."
"Solstice" has proven to entertain and inspire a large range of viewers, from runners training for their first 5K to veteran ultra-marathoners, and is now available for screenings across the country. From marketing events to running club movie nights to large charity events to pre-marathon programming, we want as many people as possible to experience Solstice in a communal environment.
To view the trailer and for more information about the film, please visit solsticefilm.com.
About Soul Focus Sports – Events Production. Experiential Marketing. Content Creation. www.soulfocussports.com
About HFrame Studio – HFrame Studio is a full service creative and production company based in Santa Cruz, CA. Focusing on branded entertainment and documentary work, HFrame creates content meant to inspire viewers to look away from their computer and go out and experience all life has to offer.