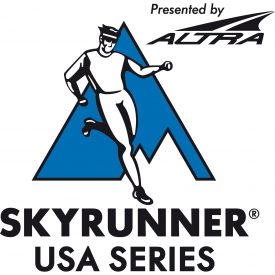 San Francisco, CA (June 6, 2018) – The Skyrunner US Series announces today that footwear and apparel company Altra has signed on as the series presenting sponsor for 2018. Altra has a long history in trail running and it is a natural fit for Skyrunner USA to be partnering with the Altra brand. The series title will be amended to "The Skyrunner USA Series Presented by Altra."
"It is really great to have Altra be part of this series," says Rob Goyen, US Series race director. "Altra's commitment to innovation and their wide array of footwear is the perfect fit for the variety of runners that will be chasing goals at Skyrunner events in 2018."
The Skyrunner USA series will be adding Altra shoes and apparel to participant giveaways at events throughout the year and Altra will be present at the 2018 Series Championship at the Franklin Mountains Trail Run in November.
We're very excited to be given the opportunity to partner with the USA Skyrunner Series" says Mike McKnight of Altra. "The Skyrunner Series gives racers the opportunity to break their own limits and run on some of the most iconic, brutal trails in the country. Giving racers these opportunities, specifically discovering that they have zero limits, is what we're all about."
In 2018, the Skyrunner USA Series with offer 5 events. Each event will offer qualifying points for the 2018 Series Championship and overall ultra-distance winners will get an invite to the MIGU Run International Championship race. Each race will offer Vertical Kilometer, Mid-distance and ultra-distance events. The 2018 events are listed below:
June 15-17: Broken Arrow Sky Race, 52k-26K-VK, Squaw Valley, California
July 28: Audi Power of 4 Trail Run, 50k-25k, Aspen, Colorado
Aug 31-Sept 2: The Rut, 50k-28K-VK, Bozeman, Montana
October 13: Indian Creek Fifties, 55k-15M, Sedalia, Colorado
Nov 9-11: Franklin Mountains Trail Run, 50k-27k-VK, El Paso, Texas
Brands and athletes are encouraged to learn more about the race series on its new website www.skyrunningusa.com, follow the series on social media @skyrunningusa and join the strava club at https://www.strava.com/clubs/skyrunningusa.
For more information about The Skyrunner USA Series or to learn about  sponsorship opportunities please contact Chris Douglas at chris@presidiosportsmgmt.com.
ABOUT SKYRUNNING USA
Skyrunner USA is the new National Series of the International Skyrunning Federation. The series will help produce dynamic experiences for athletes across the United States. Using the European model for the race series, we will work with race directors, sponsors and participants to create amazing events. This series will inspire athletes to take on some of the toughest trail running challenges in the United States and experience world-class level events. Learn more about the National Series at www.skyrunningusa.com.
ABOUT ALTRA
While working at a running store, Altra founder Golden Harper was frustrated that modern running shoe technology caused poor running form and had not decreased running injuries. His passion to create a shoe that followed the science produced Altra's FootShape™ toe box and Zero Drop™ platform. Since its founding in 2011, Harper and co-founder Brian Beckstead have grown Altra from one to 25 shoe styles, winning multiple Editor's Choice awards and distribution in more than 60 countries. Join the conversation @AltraRunning and #ZeroLimits on Twitter, Instagram and Facebook.