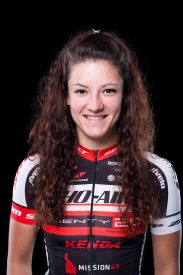 Chloe Dygert-Owen earns gold in individual pursuit and team pursuit in Hong Kong
(Boise, Idaho) April 18, 2017 — Chloe Dygert-Owen of Sho-Air TWENTY20 Cycling earned two world titles this past weekend in Hong Kong at the 2017 UCI Track Cycling World Championships presented by Tissot.
Dygert-Owen took the Women's Individual Pursuit after anchoring the U.S. team in their Team Pursuit victory. In qualifying, Dygert-Owen was only seven-tenths of a second off the world record, and she decisively won the final against Ashlee Ankudinoff of Australia. The 20-year old is building quite the resume as she now holds five world titles – three on the track and two on the road.
"The preparation for world championships was brutal but so worth the pain. My coach Kristin Armstrong is all about quality over quantity and she makes me suffer in my training which makes the racing seem easier.  I am forever grateful for all the support from the team, the opportunities I have been given have been supported 110% no questions asked. The team has created a calculated pathway for me to be able to reach my performance goals. Arriving in Hong Kong, I knew I was prepared and I had complete confidence in my training. It was up to me to execute and I am so happy to come home with two more titles," said Dygert-Owen.
Dygert-Owen balanced the deep racing program of the world championships with precision focus and a mentality beyond her years.
"I am continually impressed by Chloe's trajectory in cycling. What a thrill to watch her lead the Team Pursuit team to a win and then for her to top it off with an individual win in the Pursuit. She is living the life that most athletes dream about. She has such incredible drive and potential. I'm looking forward to having her back with our team on the road after the Pan Am Games to begin her journey towards the Bergen World Championship Time Trial," said Sho-Air Twenty20 Sports Director Mari Holden.
"I credit a lot of Chloe's success to her parents, in particular her father David Dygert. He has encouraged and supported Chloe and her brother Gunnar through their junior successes and created a solid foundation.  Chloe is a delight to work with and keeps it fun for the team and myself. You can see it from the results in the Team Pursuit – she raises the bar for other athletes on the team and truly embraces the word team. I had no doubt that she would win the individual pursuit. She was prepared and has the ability to suffer like no other, along with tremendous focus," said Sho-Air Twenty20 General Manager, Nicola Cranmer.
Dygert-Owen started her season on the road at the Santos Women's Tour, with a 7th and 9th in stages and then went on a solid 9th place at the Cadel Evan's Great Ocean Road Race. Dygert-Owen then quickly took her early season fitness to the track, where she recorded promising performances at the Los Angeles World Cup, grabbing victory in the individual pursuit and guiding the US team to a sounding victory in the team pursuit.
"Working with Chloe as her coach is an exciting evolution.  Half of the battle for an athlete is having a vision – Chloe brings that, along with extreme focus and mental toughness.  My job is to map a plan and keep her physically and mentally on track, all while keeping it fun.  It takes a team and I am one part of her team. I am looking forward to getting her on the road as she has her sights set on qualifying for both Road and TT Worlds in September – first stop Pan American Championships May 4th in Santo Domingo where the winner of the TT and RR will earn a spot," said Kristin Armstrong, Dygert's coach and mentor.
Dygert heads back to the US for recovery and then transitions to the road with the Team TWENTY20 program for Amgen Tour of California as an integral part of the team's dynamic roster.
"The transition from the track to the road should be smooth as we have been putting in the proper training since December to support each discipline. Training on the track has significantly helped her strength, pacing and focus which will transfer over nicely to the time trial and road formats," Armstrong added
GM Cranmer added: "Chloe is transitioning into one of the leader's of the team with her dedication and work ethic along with her ability to work towards team goals. Chloe has a huge heart and strives to be in happy surroundings. She is full of love and likes to see people happy, which is such an endearing quality.  We provide a comfortable low-pressure environment with a focus on long-term high performance goals. Chloe thrives in a balanced environment, which we are able to provide with a goal strategy with our partners. We work with partners that understand this and these partners do not put pressure on us to compete every weekend unless it formulates with our long-term strategy.
###
About Sho-Air TWENTY20
When the team was formed in 2005, TWENTY12 had a definite goal of taking athletes to the 2012 London Olympics. London resulted in two Olympic medals; gold and silver, the only U.S based road program to achieve this. The team replicated its success with a gold and silver in the Rio 2016 Olympics. Youth cycling is an important component to the program, supporting 14 of the top juniors in the nation ranging in ages 11-18. These young women learn essential skills such as teamwork, sacrifice and commitment, which they can carry over to the workplace if a professional athletic career is not pursued. In 2011, TWENTY16 was the first American team to recruit a Para-Cycling athlete to the roster of a professional squad and is still the only professional team to have an integrated junior program. After the success of TWENTY16 in Rio, the team is now focused on Tokyo 2020 with TWENTY20.
Web: teamtwenty20.com
Twitter: https://twitter.com/TWENTY20Pro @TWENTY20Pro
Instagram:  teamtwenty20
Facebook: @twenty20procycling
About the Ride 4 Education Scholarship Program
The Ride 4 Education program was co-founded in 2015 by Barry Bonds, TWENTY20 General Manager Nicola Cranmer and Team Director Mari Holden. The program offers scholarships to members of the TWENTY20 junior development program. TWENTY20 develops junior athletes and connects them with colleges as they graduate from high school. TWENTY20 then enables these athletes to race with the development and professional race programs while attending college and fulfilling collegiate academic and race obligations. The ethos of the Ride 4 Education Program aligns with the education mission of the TWENTY20 program – allowing the athletes to obtain the best education possible for life after cycling. Ride 4 Education