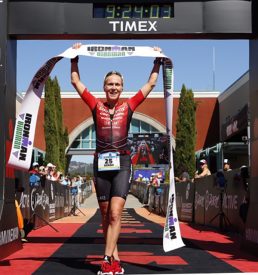 (San Francisco, CA) – Two time IRONMAN® champion and four time IRONMAN®70.3® champion, Sarah Piampiano,  kicks off her 2017 season at this weekend's IRONMAN 70.3 Liuzhou in China. Piampiano plans to race in three of the five IRONMAN 70.3 races held in China this year, in her new role as an IRONMAN ambassador. As an IRONMAN ambassador, Piampiano will promote racing in China and share her experiences of traveling and racing in the region. Piampiano raced last November at the debut IRONMAN 70.3 Xiamen where she placed second.
"When I was working in finance I traveled to China on a regular basis for work and I was always fascinated by the growth of the market and seeing the landscape develop," said Piampiano.  "Now, as a professional triathlete that is passionate about this sport, it is exciting for me to see triathlon truly entering a new market and I want to be part of that growth, to experience it first hand, potentially have some influence in it, and to help promote it as much as possible."
Piampiano's 'A' race for the first half of the year will be the IRONMAN Asia Pacific Championship in Cairns, Australia on June 11th. Having raced IRONMAN Western Australia for the past three years, Piampiano is looking forward to exploring a different part of Australia and taking on a strong field, as the Cairns event is one of IRONMAN's five regional championship races and draws a stellar field due to the IRONMAN World Championship automatic qualifying slots on offer.
"Part of the joy of racing for me is being able to travel the world, have different cultural experiences and meet new people. I've made some amazing friendships over the last six years and so I'm quite excited to be branching out this season and adding new races and new regions to my race calendar," said Piampiano.
For the second half of the season, Piampiano will turn her attention to the IRONMAN World Championship in Kailua-Kona, Hawai`i. Having placed 7th for the last two years, Piampiano is targeting a podium placing in 2017.
About Sarah Piampiano
Piampiano is Maine-born professional triathlete that now resides and trains full-time in Northern California under the guidance of purplepatch fitness founder and coach, Matt Dixon. Piampiano's career highlights include winning IRONMAN Western Australia in 2015 and IRONMAN Vineman in 2016. She is a four-time IRONMAN 70.3 Champion and placed as 7th overall female and 2nd American female at the IRONMAN World Championship in 2015 and 2016.
Media contact:
Jordan Blanco, Avid Endurance
Email: jblanco@littleredracing.com
Phone: (415) 465-3665