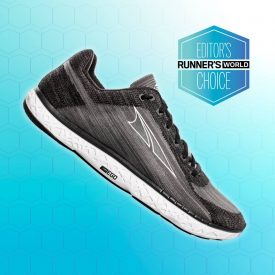 (Logan, UT — May 18, 2016) Altra's Escalante road shoe received the coveted "Editor's Choice" award from Runner's World in the magazine's Summer Shoe Guide. The Escalante was Altra's most popular shoe launch and is currently available for $130 on www.AltraRunning.com and at specialty running retailers.
"Testers raved about the Escalante's comfort, with many declaring it the best Altra built to date," Runner's World said. "Boasting the company's first flat-knit upper and an all-new bouncy midsole compound, the Escalante offers a responsive, go-fast sensation in training."
The Escalante features a richly colored engineered knit upper—Altra's first—that provides a sleek aesthetic and a sock-like fit. Altra's new Ego™ midsole, introduced with this shoe, gives bouncier cushioning with more energy return, despite being softer and thinner. Built on Altra's performance last, the Escalante is made for quick runs to marathons, but is also a perfect everyday shoe. The Escalante is an exciting blend of new material and cushioning for an innovative road shoe that fits between the Instinct and Torin.
The Escalante has a stack height of 25 mm and weighs 8.2 ounces for the men's sample and 6.5 ounces for women's. Current color options include red, gray and cobalt blue for men and magenta, gray and blue for women. Like all Altra shoes, the Escalante also features Altra's signature FootShape™ toe box and Zero Drop™ platform for a more natural, comfortable fit. The Escalante, along with every Altra women's shoe, is Fit4Her™, which means the women's model is produced with softer cushioning on a female-specific last to account for the unique anatomical differences between men's and women's feet.
About Altra
While working at a running store, Altra Founder Golden Harper was frustrated that modern running shoe technology caused poor running form and had not decreased running injuries. His passion to create a shoe that followed the science produced Altra's FootShapeTM toe box and Zero DropTM  platform. Since its founding in 2011, Harper and co-founder Brian Beckstead have grown Altra from one to 25 shoe styles, winning multiple Editor's Choice awards and distribution in more than 60 countries. Join the conversation @AltraRunning and #ZeroLimits on Twitter, Instagram and Facebook.
Media Contact: Colleen Logan, VP Marketing, clogan@iconfitness.com