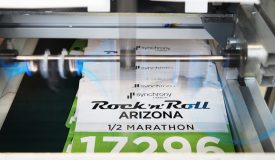 Sportstats, the timing company for the Rock 'n' Roll Marathon series, is proud to announce its commitment to using race|result bib numbers and timing technology at all US Rock 'n' Roll events over the next three years.
Marc Roy, founder and CEO of Sportstats, says: "race|result offers the easiest and most streamlined process for custom bibs with tags. We use personalized bibs with runners' names at all Rock 'n' Roll races, so fast turn-around is crucial. The automated process race|result uses to encode and place tags on bibs saves us a lot of time and reduces stress leading up to the race. On race day, the quick set up of the foldable mats with race|result systems is another big timer saver for us."
This past weekend, over 21,000 registered runners competed in Tempe Arizona. To see a short clip about how the race|result timing transponders were programmed and made their way onto the custom bib numbers, click here. Arizona was the first event in the 2018 Rock 'n' Roll Marathon series. The event included distances for everyone: marathon, half marathon, 10k, 5k as well as a 1 mile and a KiDS ROCK event. The Sportstats timing team used 23 race|result systems on course and streamed live results data through rtrt.me.
CEO of race|result, Soenke Petersen says, "We're very excited to partner with Sportstats and the Rock 'n' Roll Marathon Series. Our goal is to offer the right timing products and services that make the life of timekeepers easier and improve the runners' race experience."
About Sportstats
Sportstats is the largest timing company on the globe with over 1000 events in 2018. Sportstats has 8 offices around the world. The Rock 'n' Roll series is timed by Sportstats USA South East office by the team of John and Jodi Hovius. For more information, visit www.sportstats.us.
About race|result
race|result is a technology leader in the market of sports timekeeping technology. With headquarters in Germany and seven distributors around the globe, including a US office in Boulder, Colorado, race|result offers a complete timing package – from race numbers and event supplies, to timing transponders and systems using active or passive timing technology, all the way to timing and scoring software. For more information, visit www.raceresult.com.
About Rock 'n' Roll Marathon Series
The Rock 'n' Roll Marathon Series is the World's Largest Running Series. For over 20 years, the Rock 'n' Roll Marathon series has made running fun by infusing each course with live bands, cheer teams and more. The Rock 'n' Roll Marathon Series focus in 2018 is to deliver best-in-class running events, where music is core. For more information, visit www.runrocknroll.com.