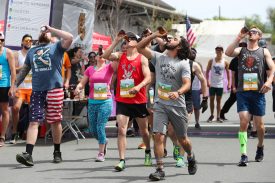 Schirck and Harper fastest in Beer Mile Invitational
The first-ever IPA 10K did not disappoint the throng of runners who started their day with an inspirational beer themed toast before making their way through the massive beer bucket start line of the inaugural IPA 10K in Sebastopol, CA. The event was the first of its kind produced by Destination Races, of Sonoma, the creator of the popular Wine Country Half Marathon Series. First across the finish was San Francisco's Malcolm Richards with a winning time of 30 minutes and 56 seconds. Nick Spector, from Sonoma, finished second with a time of 32:26, followed by Tommy Vargas, of San Francisco in 32:45. Alyson Barrett, of San Francisco, was victorious among the women with a time of 38:33, beating out Maddie Pfeffer, of San Francisco, by four minutes (42:52), and Karen Frindell Teuscher of Santa Rosa (43:22).
While the centerpiece of the event was a scenic 10K run that loops through the northern rural edge of Sebastopol, most stayed for the post-race Beer & Music Festival and Beer Mile Invitational. After the race, participants received a beer-opener finishers medal and an unbreakable beer tasting glass from Wine2Go. Twelve Bay Area breweries poured at the Beer & Music Festival alongside Indie folk favorite, the Highway Poets, who kept the crowd hopping and grooving on a beautiful Easter weekend spring day. After the 10K awards ceremony the Beer Mile Invitational took center stage and did not disappoint.
A large and very curious crowd gathered at the Barlow, an open-air, multi-use marketplace in the heart of Sebastopol, known for its apple orchards, farms, and laid-back Northern California lifestyle. The beer mile course wrapped around a block of The Barlow, as its merchant shops and restaurants created a natural amphitheater for this spectator-friendly event. Heat one of the Beer Mile Invitational was a four-lap race around one block of the Barlow with elite beer milers each consuming a 12-ounce beer in the "chug zone" on every quarter mile lap.  The field included top US beer milers, including US record-holder Brandon Schirck of Ventura, California, his closest competitor, Garret Cullen of Mountain View, CA, and one of the originators of the Beer Mile, John Markell, who now runs for West Valley Track Club in San Francisco. Lindsay Harper, a collegiate runner for University of Virginia, now residing in San Francisco, led the small women's field, which was given a 2 minute and 9 second head start to create competition for the first across the finish line bonus award.
Harper was able to gain over a full lap before the men's field started. Brandon Schirck was first out of the chug zone, followed closely by Cullen. The two men eventually gained on Harper but were unable to catch her before she crossed the finish line. Schirck barely held off the sprinting Cullen at the finish line, finishing three seconds ahead with a time of 5 minutes and 36 seconds. John Markell completed the sudsy course in 6:21 for third place. Harper and Schirck took home $400 and $300 respectively, along with a personalized growler of beer.  "It was challenging competing against the men today so I was happy I was able to finish the way I did", said Harper, as she sipped on her victory beer.  "I love beer and running and this event was so much fun. The energy was great out there with the crowd and competitors."
In the Brewery Challenge, participating breweries comprised of a four-person relay teams competed for the Golden Growler Award. Each participant is required to chug a beer, run a quarter mile and chug another beer.  The relay created a friendly completion among the breweries but when the suds had settled, 3 Disciples Brewing were announced as the winners of the Golden Growler, much to the dismay of the Crooked Goat and HenHouse Brewery teams who took second and third place respectively.
"Today was a great example of can what happen when enthusiastic partners bring their best resources and creativity to the table", beamed event founder Matt Dockstader, of Destination Races.  The IPA 10K and post-race festival showcased Sonoma County's finest breweries and attracted runners from throughout California and 22 other states while benefitting Court Appointed Special Advocates for Children of Sonoma County (CASA).  Destination Races also produces the Santa Barbara, Napa-to-Sonoma, Oregon, Kelowna, Virginia and Healdsburg Wine Country Half Marathons.
To view complete race results go to ipa10k.com/race-info/results. For more information on the event series and Destination Races, visit DestinationRaces.com. You can also find them on facebook.com at /destinationraces, on Twitter @winecountryhalf, and Instagram @winecountryhalf.
FOR MORE INFORMATION CONTACT:
Micheal Coats
Coats Public Relations
michael@coatspr.com
(707) 935-6203 office
Matt Dockstader
Destination Races
matt@destinationraces.com
(707) 933-1769 office