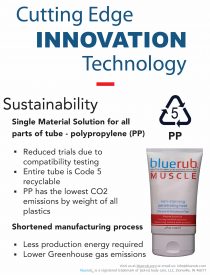 bluerub® - natural body care for endurance athletes
(Zionsville, IN—November 6, 2017)— bluerub®, the new standard in anti-chafe and recovery, announces their retail relationship with Ragnar Trail & Road Races.  "Ragnar made the switch to our Anti Chafe stick and Muscle Rub in June and haven't looked back.  This is another big step in the growth of our brand. To be available on the Ragnar website and at every race is huge for us," commented bluerub® co-owner Jon Schackmuth.
Ragnar is more than just an event. They are a tribe of adventurers committed to keeping the environment we all share beautiful for everyone to enjoy. As a part of this mission, Ragnar is dedicated to organizing socially and environmentally responsible events by focusing on impact, waste management, trail conservation, community involvement, and promoting healthy, adventurous lives. The bluerub® brand fit perfectly to the Ragnar mission statement – MINIMIZING OUR ENVIRONMENTAL IMPACT.  In fact, having half the packaging than the two leading competitors and a manufacturing facility that is 80% solar powered helped sealed the deal; in addition to the competition level performance bluerub® delivers.
"Selling an Anti-chafe product that performs and is eco-friendly was paramount when switching brands, but what I liked most about bluerub® was how easy they were to work with, family owned and quick to respond.  I'm so glad I walked into the local running store in Wasatch, UT and found them," Bill Clarke Director of Merchandise and Product for Ragnar Events, LLC.
Ragnar Relay also added the Muscle Rub to its inventory for one simple reason: Long distance runs push the runners further then they've been pushed before.  Having a product that can quickly soothe overworked muscles and joints was important to offer.
Muscle Rub is used to soothe and calm overworked muscles and joints with cooling menthol and penetrating heat. bluerub® Muscle can be applied prior, during, or after activities. Perfect for hikes, runs or bike rides.
Our plant based ingredients are infused with anti-inflammatory and anti-bacterial ingredients. Perfect for use by athletes, Physical Trainers, Chiropractors, or Spas as part of a massage experience. Muscle Rub is designed for sensitive skin and is easy to apply. Washes clean with soap and water.
"We need to treat our clients, our communities, and our planet with dignity and respect.  That commitment is reflected in our naturally derived products, high-quality production, community reputation, and minimal environmental impact," explains Schackmuth.
​As a socially responsible company, they believe that their suppliers should share in this commitment.  Their tubing is a Single Material Solution for all parts of the tube.  Polypropylene (PP) has reduced trials due to compatibility testing and the entire tube is Code 5 recyclable. PP has the lowest CO2 emissions by weight of all plastics, shortened manufacturing process, less production energy required, lower greenhouse gas emissions and their product manufacturing facility is 80% solar.
This initiative is good for the environment, good for our community and good for our business:  less waste to landfill means a healthier community, optimized logistics, and fewer disposal costs.  bluerub® is more than natural body care products for endurance athletes; it's a new way of doing business with the leading road and trail relay races in the United States, if not the world.
About sol-is body care, LLC & bluerub®: Based in America's Heartland, sol-is began in 2015 out of the need for natural body care products that perform at the highest level. One of our owners, Jane, received the exceptional gift of a kidney transplant and because of immunosuppression, she was looking for a lotion that didn't contain harmful ingredients. Her husband Jon, an entrepreneur by nature, decided to create one. Thus, began the journey to create bluerub®, our sports creams and body care manufacturing brand.  bluerub® may be designed for endurance athletes but it's perfect for everyday use.
​sol-is is now taking the next step in providing market leading brands that meet the same standards as bluerub®. For Further information, email us at info@bluerub.com.  bluerub® is a registered trademark of sol-is body care, LLC Zionsville, IN 46077, owned and operated by Jon & Jane Schackmuth. Made in America. To learn more, "like" us on Facebook, Twitter, & Instagram or visit www.bluerub.com