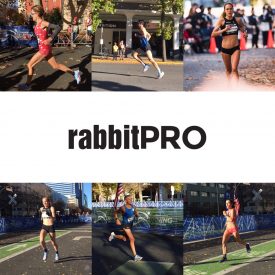 Sacramento, California — Sunday dawned cool, clear and still in Sacramento and members of the rabbitPRO team took advantage of the ideal running conditions to put up a slew of outstanding performance in the California International Marathon, this year's host to the USATF Marathon Championships. Samantha Bluske led the women's team home, placing fourth with a time of 2:31:55, an improvement of more than four minutes over her previous personal best. Hot on her heels in fifth place was her teammate Kaitlin Gregg Goodman, who ran 2:32:08, shaving an enormous seven minutes off of her own personal best.
Not far behind, Lauren Totten finished 9th in 2:35:33. Both Gregg Goodman, who hails from nearby Davis, and Totten, who has long been supported by the Sacramento Running Association, received raucous welcomes from the crowd and announcer as they crossed the line. All three women qualified for the Olympics Marathon Trials by achieving the A Standard of 2:37. Also qualifying for the Olympic Trials, by running the B Standard of 2:45, were their teammates Sarah Pease, in 2:38:19 and Amy Schnittger in 2:41:32.
On the men's team, Ramiro "Curly" Guillen led the charge, running 2:17:33 to place 24th and achieve his long time dream of qualifying for the Olympic Trials. Guillen, a college standout who had left the sport and grown inactive and unhealthy returned 7 years ago, inspired to chase that lofty goal. On Sunday, at the age of 35 and in his 9th marathon, Guillen shaved 4 minutes off of his personal best in a race that he executed to perfection.
"I asked my coach how fast I could run the first half and he said 1:08:30." Happy to oblige, Guillen split exactly 1:08:30 en route to his breakthrough performance. Debuting in the marathon, fellow rabbitPRO Seth Totten (husband to Lauren) placed 42nd with a time of 2:19:27. In so doing, the Tottens set a new record for the fastest American couple to run the same marathon on the same day.
All in all, it was a stunning day for a team that traces its origin back to just last year. With the passionate backing of California-based running apparel manufacturer rabbit, the team has blossomed in short order. rabbit co-founder Jill Deering expressed her pride in what the runners were able to accomplish. "It was one of those truly magical days. The rabbitPRO runners took the roads by force, with six qualifying for the 2020 Olympic Marathon Trials. My heart is so full of pride, admiration, and inspiration for these athletes and we could not be more honored to support them on their incredible journeys."
###
About rabbit: Made in California by runners who care, rabbit is the best running apparel for men and women available anywhere. You can find rabbit at independent specialty running retailers throughout the nation or online at runinrabbit.com