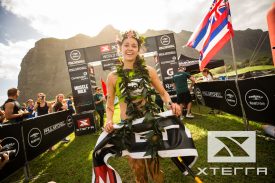 Santa Barbara, California — For rabbitPRO Dani Moreno, winning the XTERRA Trail World Championship marked the final highlight in a breakthrough year of running. Coming off of a stellar 2016 season—which earned her a spot on team USA for this year's World Mountain Running Long Distance Championships in Italy—Moreno, a relative newcomer to the trails, has continued her upward trajectory. Her 21st place finish at that race in Italy cemented her status in the top tier of the sport and served as a launchboard for a victorious end of the year.
Last month, Moreno used the Half Marathon race at The North Face Endurance Challenge in San Francisco (TNF) as a "rust buster" ahead of her trip to Hawaii for the XTERRA Trail World Championship. That strategy paid off big time, with Moreno finishing as the first female and fifth overall runner at TNF, just 1 minute 46 seconds behind the overall winner. Having predicted that exact result in a race preview, Moreno's confidence was at a high heading into the final race of her season.
Confidence combined with excitement made for a quick start, contrary to Moreno's pre-race strategy. "My plan was to be conservative for the first five miles and then work on the climb, but that just did not happen. I was so nervous I just took off." Having developed an early lead, Moreno was in the clear for most of the race and tempted to enjoy the scenery until the eventual second place finisher came close enough to give her a scare. "It was so beautiful I just wanted to take a picture. That's when Giselle caught me, and I told myself, 'Oh no, you've got to race.'" Race she did, establishing a lead of over 1 minute in the closing miles of the race to snag the championship and a $2,000 prize.
###
About rabbit:
Made in California by runners who care, rabbit is the best running apparel for men and women available anywhere. You can find rabbit at independent specialty running retailers throughout the nation or online at runinrabbit.com