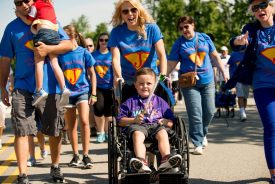 PITTSBURGH, PA – Pittsburgh Three Rivers Marathon, Inc. (P3R) is pleased to announce a partnership with Children's Hospital of Pittsburgh Foundation to produce the annual Walk for Children's. Now in its third year, the Walk for Children's was established to bring patients, caretakers, families and other community members together to support Children's Hospital of Pittsburgh of UPMC.
The Walk for Children's is a not just an opportunity to get involved and give back to Children's Hospital. The event is also about celebrating Patient Champions – those who have been or are currently being treated at Children's – who show great strength and courage throughout their medical journeys.
"Changing lives and giving back to the community are important to both Children's Hospital and P3R, so this partnership is a perfect match," said Patrice Matamoros, P3R CEO and race director. "We are excited to get involved and witness how funds raised from this event will have a direct and immediate impact on the Hospital's ability to transform young lives through deep compassion and unparalleled care."
Last year, over 4,200 walkers helped to raise more than $800,000 to help give kids a chance to be kids. Proceeds from this year's annual Walk for Children's, scheduled for Saturday, June 23, 2018 at Flagstaff Hill in Schenley Park, will continue to support Children's mission of excellence in patient care, teaching and research.
"Since its inception, Walk for Children's has raised over $1.4 million dollars to support our patient champions, providing hope to children and families throughout the region," said Greg Barrett, president, Children's Hospital of Pittsburgh Foundation. "Thanks to this community fundraising event, Children's has been able to treat rare diseases, define new standards of care, pioneer protocols and provide family-centered services in a world-class environment."
In addition to this new partnership, an Executive Committee has been formed to further engage the community with Walk for Children's; it will be led by Lance Ruttenberg of American Textile Company.  Co-chairs of the Executive Committee, all of whom have agreed to reach out to specific subsets of the community, include Kim Fleming of Hefren-Tillotson, Joe Arlotta of Gaggenau, Brooke Guyaux and Nicole Ruttenberg.
Presenting sponsors UPMC and UPMC Health Plan will return for the Third Annual Walk for Children's. Representing the presenting sponsor will be Scott Lammie, senior vice president and chief financial officer, UPMC Insurance Services Division.
For more information and to register for the event, visit www.walkforchildrens.com.
#    #    #
About Pittsburgh Three Rivers Marathon, Inc. (P3R)
P3R is a nonprofit organization that is passionate about promoting a love of running and enhancing community access to health & fitness education and activities. Best known for organizing the acclaimed annual DICK'S Sporting Goods Pittsburgh Marathon, we also run a variety of other high-quality races, events, and health and fitness programs throughout the Pittsburgh region. While many of our races attract some of the nation's highest-profile professional athletes, we offer activities for all ages and ability levels. The only criterion for participation is a desire to be happy, healthy and active! Read more at www.P3R.org.
FACEBOOK: P3Revents          INSTAGRAM: P3REvents                TWITTER: @P3REvents
About Children's Hospital of Pittsburgh of UPMC
Regionally, nationally, and globally, Children's Hospital of Pittsburgh of UPMC is a leader in the treatment of childhood conditions and diseases, a pioneer in the development of new and improved therapies, and a top educator of the next generation of pediatricians and pediatric subspecialists. Children's Hospital has fulfilled this mission since its founding in 1890. Children's is named consistently to several elite lists of pediatric hospitals, including ranking 10th among children's hospitals and schools of medicine (FY 2016) in funding for pediatric research provided by the National Institutes of Health, and is one of 10 pediatric hospitals in the United States named to the U.S. News & World Report Honor Roll of America's "Best Children's Hospitals" for 2017-2018.
FACEBOOK: ChildrensPgh      INSTAGRAM: childrenspgh       TWITTER: @ChildrensPgh