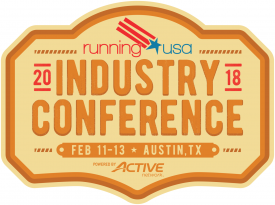 15th annual industry conference, the world's largest gathering for the running business, set for Feb. 11-13 in Austin, Texas
DETROIT – For running events large and small, obtaining sponsorships that provide additional financial support and stability can be a challenge. At the upcoming Running USA Industry Conference in Austin, Texas, a panel of experts will discuss how to best attract and retain sponsors, no matter what your market size.
Celebrating its 15th year, Running USA's annual gathering of the best and brightest in the road running industry is considered a not-to-be-missed event. This year's event will be held at the Hilton Austin in one of Texas' most fun and running friendly cities. Join the fun by signing up here.
"Sponsorship is an issue that's constantly on our attendees' minds," said Christine Bowen, Vice President, Programming and Operations for Running USA. "We endeavor to bring fresh perspectives to the table to take on the sponsorship challenge each year, and that's what you'll find on this year's panel."
The Sponsorship Panel, to be held Tuesday morning Feb. 13, will include the following speakers:
Matt Weiss, Brooks Running. Weiss is the Director of Marketing, Retail, Events & Sports Marketing at Brooks Running. He leads event marketing, retail marketing, Brooks' flagship Trailhead store, and brand partnerships, all with the goal of delivering Brooks' Run Happy experience.
Kevin Rutherford, nuun. Rutherford is the President and CEO (Chief Eternal Optimist) of nuun. A branding and marketing expert, he was the past President and CEO of Mrs. Meyer's Clean Day (The Caldrea Company) as well as Director of Marketing for Kashi Co. and senior brand manager for Miller Brewing Company.
Kate Napolitano, J&A Racing. Napolitano is the Event and Sponsorship Director at J&A Racing of Virginia Beach. With a background in finance marketing, Kate brings with her years of corporate experience that allows her to develop and enhance relevant relationships between J&A Racing and its many corporate sponsors.
Moderator: T.K. Skenderian, Boston Athletic Association. Skenderian works as the Director of Communications for the Boston Marathon and the Boston Athletic Association, and has served the B.A.A. in everything from assigning credentials to signing contracts since 2008.
Grow your business by attending the 2018 Running USA Industry Conference. Register today.
About Running USA
Running USA is a tax-exempt, not-for-profit organization devoted to improving the status and experience of distance running and racing in the United States through collective marketing and promotions, information and communications within the industry and to the national media, services to events and industry members, and the development of American world class stars. It seeks the advancement of the sport and the provision of value to each of its members' events and businesses. For more information, visit RunningUSA.org