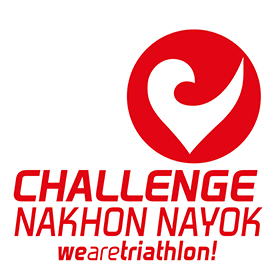 After the great success in organizing CHALLENGEKANCHANABURI, Tab Agency, the official Challenge Family right holder in Thailand, has announced a new race in Thailand. In corporate with The Armed Force Academies Preparatory School CHALLENGENAKHON-NAYOK will be on June 25, 2017.
Nakhon Nayok is a small tourist destination with many attractions and located near Bangkok. There are many beautiful natural and interesting historical tourist attraction, variety activities to offer.
The new race CHALLENGENAKHON-NAYOK will start with the swim course in the Armed Force Academies Preparatory School lake with approximately 5 meters depth. The swim course will be 2 laps with 950 meters per lap in a nice clean water. The 90 kilometers bike route starts from the Academy passes straight through Salika waterfall then a turn at Khun Darn dame and returns the same direction on mostly flat asphalt road. This course is approximately 32 meters above sea level ad the highest level will be approximately 45 meters above sea level. The run course will take place within the Armed Force Academies Preparatory School consistent of 3 laps and 7 kilometers each, this course is approximately 90% flat.
"We believe that CHALLENGENAKHON-NAYOK will be another great challenge with a course to impress local and international triathletes because of the beautiful natural environment" said Tab Agency.
Zibi Szlufcik, CEO CHALLENGEFAMILY, added: "Thailand is one of fastest growing triathlon destinations in the world and we are enjoying an amazing development of Challenge Family with our partner, the Tab Agency. The new Challenge Nakhon Nayok is close to the capital city Bangkok which surely become quickly a "must do" destination for athletes from all over the world. The scenic surrounding, easy logistics, beautiful course and the friendly hospitality are ready for athletes, media and the industry to share this experience."
For more details please visit: www.challenge-thailand.com
Media enquiries should be directed to Jessica Peter, CHALLENGEFAMILY Marketing and Communications via email jessica@challenge-family.com.
###
ABOUT CHALLENGE FAMILY
CHALLENGEFAMILY is the fast growing global long distance triathlon series, now with 43 full, middle and olympic distance triathlons in 26 countries and we are changing the face of long distance racing around the world. Featuring spectacular courses in iconic destinations CHALLENGEFAMILY events focus on delivering the race of a lifetime to athletes of all ages and abilities, and creating a memorable spectator experience that captures all the excitement and emotion of this inspirational sport. www.challenge-family.com