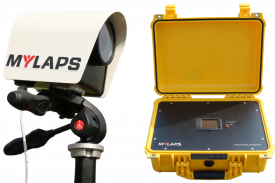 MYLAPS is proud to launch a new game changing innovation: PhotoVideo. This service offers automated live photos and videos of all athletes. PhotoVideo creates a real-time and digital event experience for all participants and fans. All content is fully branded with event sponsors.
PhotoVideo is fully integrated in the existing MYLAPS timing platform. MYLAPS succeeded in capturing personal athlete photos and videos and process this in an intelligent way. This results in live or same day footage.
All media content created with the MYLAPS platform is available in the whitelabel EventApps, on the Facebook walls of participants, on the event websites (with iframe) or can be distributed with an API.
Runners thrilled, spectators excited
Lincoln Marathon was the first event in the world with personal live photos in their own Lincoln Marathon EventApp. "The runners were thrilled with the PhotoVideo service provided by MYLAPS," says race director Nancy Sutton. "The spectators were excited to see their runners, including their photos, as they progressed along the course. We will definitely want PhotoVideo back again next year. This service upgraded our event!"
More info on PhotoVideo can be found on www.mylaps.com/photovideo
About MYLAPS
We support athletes, racers and events in creating their ultimate sports experience. Every year we capture the performance of over 20 million people all over the world. And turn their data into insights, progress and fun. We offer them a better understanding of their performance and help them with their best next steps. Founded in 1982, we have revolutionized the world of sports timing with groundbreaking innovations and set the standard ever since. Our products and platforms are used at professional events like the Olympics and NASCAR to countless local events around the corner.