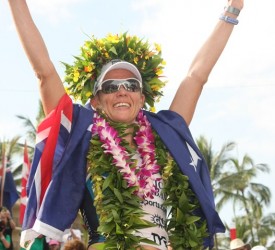 First Stop this weekend at Ironman 70.3 Monterrey
March 18, 2016 – Three time Ironman World Champion Mirinda "Rinny" Carfrae officially kicks off her 2016 season this weekend at Mexico's Ironman 70.3 Monterrey and shares the announcement of her full 2016 race schedule. As one of triathlon's most accomplished professionals, Carfrae is excited to return to racing and get back on the road to Kona,  focused on her goal of another Ironman World Championship title in October.  In 2015, Carfrae's Kona dreams were shattered on race day when the residual injuries of a race week bike crash took a toll early in the bike leg.
"I am so excited to get started. I know how ready I was last October and I really missed being part of such a dynamic and deep field in the women's race. I love to race and I know I can do even more on that course. My 2016 season is scheduled around putting together two really strong Ironman races and the training blocks necessary to race to my full potential," stated Carfrae.
Outside of Kona, highlights of Carfrae's season include her perennial favorite, St. Anthony's Triathlon, and a return to the North American Pro Championship at Ironman 70.3 St. George.  Carfrae's mid-season focus will center on Ironman Austria, and she is excited to head back to Europe to race amid the incredible  energy of European triathlon fans. Her selection of key Ironman 70.3 events will contribute to her preparation for Austria and Kona, with August and September focused solely on her bid for the 2016 Ironman World Championship.
| | | | |
| --- | --- | --- | --- |
| March 20 | Ironman 70.3 Monterrey (Monterrey, Mexico) | | |
| April 24 | St. Anthony's Triathlon (St. Petersburg, Florida) | | |
| May 7 | Ironman 70.3 St. George (St. George, Utah) | | |
| May 22 | Ironman 70.3 Chattanooga (Chattanooga, Tennessee) | | |
| June 26 | Ironman Austria (Klagenfurt, Austria) | | |
| July 17 | Ironman 70.3 Racine (Racine, Wisconsin) | | |
| October 8 | Ironman World Championship (Kailua-Kona, Hawaii) | | |
Carfrae is thankful for the support of her partners TYR, New Balance, Felt Bicycles, Chocolate Milk, GU Energy,  Castelli, SRAM, ZIPP, Quarq, Bonk Breaker Bars, Yurbuds,  Desert Mountain, Normatec, Oakley, Pear Sports, Mavic,  XLAB, SHEEX, and Continental tires.
About Mirinda Carfrae
Mirinda Carfrae is a renowned Australian professional triathlete and three-time IRONMAN World champion. Carfrae achieved podium positions in all six of her attempts at the IRONMAN World Championship: three gold (2010, 2013, 2014), two silver (2009 and 2011) and a bronze (2012). Carfrae was also crowned World Champion at the 2007 IRONMAN 70.3 World Championship. Carfrae holds the IRONMAN Championship course record (8:52:14, set in 2013). On her debut in 2009, she set a new course record for the marathon of 2:56:51. She continued to set new course records for the marathon in 2010 (2:53:32), 2011 (2:52:09), 2013 (2:50:38) and 2014 (2:50:26). Mirinda "Rinny" Carfrae looks forward to pushing herself again at the 2016 IRONMAN World Championships. For more information on Mirinda Carfrae, please visit www.mirindacarfrae.com