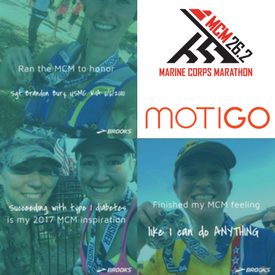 Historic Half Adds Motigo to Race Day After Record App Usage During 2017 MCM
Denver, Colorado – Feb 15, 2018  – Motigo, the pioneer in delivering personalized audio to athletes during their activities and races, is back for the 2018 Marine Corps Marathon (MCM) and after building upon three years of continued growth, will be a new addition to the 2018 Historic Half. Participants of both events will be able to use the Motigo app to experience inspiring personalized and course specific messages that tap into the emotion and history that is core to the events.
Motigo has been a fixture of the last three Marine Corps Marathons and the partnership has continued to attract increased participation – a sure sign of the continued penetration of smart phone usage by runners. Starting with 18,000 messages in 2015 and growing to over 30,000 messages in 2016, the 2017 event saw massive growth with over 54,000 total messages queued up on event day. Given these levels of success, the event plans to use Motigo for 2018 and expand the relationship to its Historic Half this May 20th.
Also new for 2018, the events will utilize Motigo's new Photo Madlibs platform, a web based tool that allows participants to share their personal photos and sentiments in a lightly and thoughtfully branded way. Having successful tested campaigns with Brooks at the 2017 Marine Corps Marathon, and with Team in Training at the 2018 Disney Marathon weekend, Motigo will work with the MCM to embed the Madlibs experience in both the event website and apps. These images create a fun and interactive "photo wall" and leverage user generated content to drive social amplification before and after the event.
"The Marine Corps Marathon has been a fantastic partner and advocate since day one back in 2015. The organization cares about creating a great experience – for both runners and spectators by embracing innovation," said Dan Nagler, Co-Founder of Motigo.
"There's a far greater number of individuals supporting the participants than those actually running. This technology enables so many more individuals and sponsor brands to actively engage in the event experience," says Marc Goldman, MCM Sponsorship/Marketing Manager.
Runners participating in 2018 Marine Corps Marathon or 2018 Historic Half can download Motigo in the App Store and via Google Play.  From there, they can select the event, choose their distance, then use the social sharing tools to easily invite their friends and loved ones to cheer them on – by using the apps, or with the record cheer option on the Motigo website.
About Motigo
Motigo is a mobile based, social application that connects runners to their biggest supporters.  Created by a Colorado husband and wife team, Motigo delivers Emotional Fuel™.  Its proprietary personalized audio messaging creates a timely and powerful connection between runners and their friends and family via personal, pre-recorded audio messages, which runners automatically hear at selected intervals throughout their event.  The app, currently available for iOS, helps runners overcome the mental and emotional challenges associated with running-event participation, while enhancing the experience for all.  From consumers to non-profits and race sponsors, everyone involved in running wins with Motigo – now available in the iPhone app store.  For more information, visit getmotigo.com. Like them on facebook.com/getmotigo, follow on Twitter @motigoapp and Instagram @motigo.
About The Marine Corps Marathon
The Marine Corps Marathon (MCM) is voted the "Best Marathon in the Mid Atlantic," and the "Best Marathon for Charities." The
MCM honors the dedication, sportsmanship and patriotism of its participants. Also known as "The People's Marathon," runners
from all walks of life participate in the MCM, the largest marathon not to offer prize money. The 43rd MCM, sponsored by Leidos, Arlington County, Brooks, GEICO Military and Wegmans will be held on October 28, 2018 in Arlington, VA. No federal or Marine Corps endorsement is implied.
#RunWithTheMarines
For Media Inquiries contact Dan Nagler:
Motigo
dan@getmotigo.com
516.902.8288