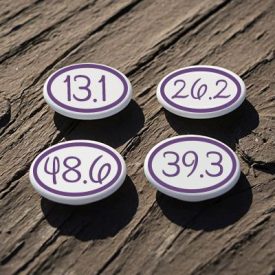 The safety pin replacements just got better, thanks to the new customizable options from BibBoards.
BibBoards, the home of the running bib holders that completely replace safety pins, recently announced a feature that may be of interest for both independent athletes and sponsors alike. Using a simple tool, anyone can quickly customize their very own set of BibBoards, provided the image meets some simple requirements. As outlined on the company's website, "the max size your design can be is 300x 300 pixels or 1 x 0.823 inch," with 300 dpi being the recommended setting when saving the artwork, and only PNG and JPEG being supported for now. Apart from that, customers are only limited by their imagination – and common sense.
As four BibBoards are required to secure a bib on an athlete's attire, the customization option provides potential sponsors with an attractive opportunity to clearly display their logo up to four times per person, or mix-and-match and create an entire advertising board attached to exercise clothes. Considering that images on BibBoards are large enough to be clearly visible on TV cameras, not to mention professional photos, customizing these safety pin replacements is something for sponsors to consider. Even during smaller events, BibBoards will not go unnoticed and hide across photos and videos taken by families and friends, which is great reach anyway. With over 17 million people crossing a race finish line annually, custom BibBoards appear to have very little chances of going unnoticed.
Another aspect that may potentially catch sponsors' attention when it comes to customizable BibBoards is that they are very affordable compared to many other merchandise options, making these tiny plastic bib holders great value. In addition to being affordable and easy to manufacture, BibBoards are also directly sports related, which is not the case with much of the usual branded merchandise such as pens, calendars and sticky notes. And as BibBoards are reusable, athletes are likely to keep and reuse them – even if purely due to the convenience factor – further increasing logo exposure and stretching it far beyond a single event.
As a result, BibBoard inventors are confident that bib clips are "a great opportunity to display a logo multiple times per athlete. Your brand will not only be at that event but every event thereafter. They will sure get snapped multiple times by event photographers, giving your business even more exposure. And as BibBoards are reusable, athletes are likely to keep them as souvenirs and attach to their attire over and over again, advertising your company event after the race is over."
Additionally, bib clips are a universal product that can be appealing to wider audiences compared to other types of sponsor merchandise. Not everyone uses pens, tote bags or even baseball caps, but every athlete that competes from time to time, even if only in low key or recreational events, needs to attach bibs to exercise attire. Using a product that appeals to many people on different levels has a good potential for genuine connection and increased customer interest. As BibBoard creator Brian Goodell  pointed out, "By picking the target audience wisely, you will sure attract many new customers passionate about what you offer. Spectators, for instance, want to be a part of the sport they're watching, so they'll readily purchase anything linked to that image, including sponsored goods. A good example is skyrocketing sales of S60 Volvo has experienced since their induction to the V8 Supercars."
It is not all about sponsorships though, as customizable BibBoards also provide great entertainment value. Some of the most popular fun messages to be printed on BibBoards include "RUNYOUROWNRACE," "I LOVE RUNNING," "13.1 Miler," "WILL RUN FOR WINE," and "KEEP CALM AND RUN ON," with many more examples displayed on the company's website. Displaying positive, fun messages can be a good way to boost mood and therefore performance, as exercise attire can play an important role in promoting training success.
Customers also enjoy the liberation from potentially dangerous safety pins that have been linked to various accidents, from small pricks to kids swallowing them which causes a lot of problems. Bib clips' creators noted, "For years, athletes have been ruining race shirts, pricking their fingers and struggling to secure race bibs. That is, until BibBoards came along!"
Overall, BibBoards not only provide a safer alternative to pins, but also generate an attractive advertisement opportunity for sponsors, thanks to the new convenient customization option. To have a go at customizing your own set of BibBoards, go to the "Create your own" section of the official website: https://www.bibboards.com/build-your-own/
About BibBoards
The concept of BibBoards was conceived in 2009, when Rob Greenspoon, a passionate athlete and a patent attorney, decided he has had enough with the safety pin pre-race ordeal. As there was no existing solution to the problem, he teamed up with his good friend, inventor and business expert Brian Goodell to create and launch the product that met the need. 
The creators attribute the invention's success to its "shameless simplicity". They are made of two separate parts: a flat, wide exposed detail and another piece. The pieces work together by pushing a section of clothing into a recess, which provides secure, comfortable fit. It is just as easy to assemble the pieces as it is to pop them back out.
One of the key features of BibBoards – apart from advertising potential for sponsors – is the fact that this bib attachment technique does not damage the clothes, unlike safety pins. Removing a BibBoard only leaves a small dimple behind which either disappears on its own or washes out, depending on the exact properties of the fabric.
Finally, the BibBoards are aero-dynamic, which, according to the inventors, means "no awkward rubbing, flapping, moving and adjusting, which no one has time for".
To find out more about the bib replacement clips, visit the official website: https://www.bibboards.com/