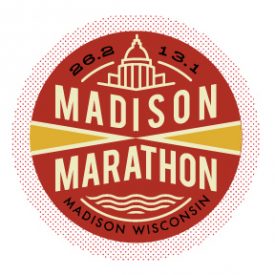 Amid nationwide decline in finishers, Wisconsin's capital city event builds a Veterans Day tradition
MADISON, WIS. — More than 4,000 runners, ranging from amateur to elite status, finished the Madison Marathon and Half Marathon on November 12 in temperatures hovering around 35 degrees. The annual event, which takes place every Veterans Day weekend, starts and ends on the city's beautiful Capitol Square and guides participants through some of Madison's most scenic and iconic areas.
At a time when participation in road races in other cities is declining, the number of Madison Marathon finishers increased 10 percent over 2016's 3,700 finishers — confirming the event's status as a premier destination for runners from all over the Midwest.
"We are fortunate enough to be able to put on a great race in a beautiful city. Madison has proven itself as a sports destination that has something to offer to everyone," says Ryan Richards, long-time Race Director of Madison Marathon.
This year marked the first-time race organizers offered a prize purse, worth $8,750. Prizes were awarded to the top three male and female finishers in both the marathon and half marathon races. Brian Finnel of Verona, WI finished the full course in 2:22:48, while Chloe Staub of Milwaukee, WI ran the race in 3:01:25. Patrick Campbell of Wauwatosa, WI completed the half marathon in 1:08:12, and Gabi Anzalone of Madison, WI finished in 1:19:38.
In November 2017, The New York Times reported that the number of finishers in road racing events in the United States fell from a peak of about 19 million in 2013 to about 17 million in 2016. Why? Runners appear to have stumbled over high fees and a glut of race options.
Nontraditional running events such as Tough Mudders, Color Runs and Spartan Races have claimed as many as one million runners who previously considered themselves road racers, according to Rich Harshbarger, chief executive officer of Running USA, an industry group.
The latest trend among race directors is to make their events more appealing by increasing overall value and creating memorable experiences — not only for runners, but also sponsors, charities and communities.
Because the Madison Marathon is held on Veterans Day weekend, all runners who are former and active military members receive a flag sticker on their racing bibs. This year, Dane Rauschenberg — the distance runner who made history by running 52 marathons in 2006 — participated in the Madison Marathon and carried a flag to honor all veterans.
"We appreciate the service and support of the men and women in our military services and are more than happy to recognize them as they participate in the Madison Marathon Events. We also partner with Badger Honor Flight, which ensures that our veterans have the opportunity to see the memorials that have been built in their honor," says Richards.
Madison Festivals has owned the Madison Marathon since 2001, when it was known as the Mad City Marathon. The named changed in 2007, and beginning in 2013, the race was moved from Memorial Day Weekend to the Sunday of Veterans Day weekend in November.
Race Day Events has fully produced the event since 2014, overseeing all aspects from registration and marketing to packet pickup and managing the course.
Visit www.MadisonMarathon.org for more information about this increasingly popular event. Registration is already open for 2018!