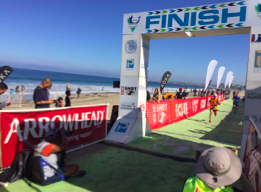 SAN FRANCISCO – October 2, 2015 – Lapio, Inc. providing powerful race timing software complete with live, accurate results, announces the successful timing of the LA Triathlon at Torrance Beach using Lapio software, race result hardware and Human Tagging RFID HuTag.
The LA Triathlon at Torrance Beach, produced by Pacific Sports, offers 5 distances including the Olympic, Sprint, Super Sprint and Youth triathlons as well as a 5K run. Setup consisted of 6 timing points including 4 different start locations.  The race was timed using Lapio software and race result hardware was used to collect the chip times from HuTag XC-1 RFID tags.  This marks the first year that the LA Triathlon at Torrance Beach has been timed using this powerful combination of timing technology.
Lapio is no stranger to race timing, having provided accurate, live results for nearly 3000 races and more than 900,000 participants worldwide. Lapio teamed up with race result because of their reputation for high quality RFID timing systems capable of timing any type of sporting event. race result uses the HuTag for triathlons and mud races to not only deliver superior accuracy but also durability for the most demanding races.
"Our hardware is made to deliver consistent and accurate timing data and we are proud to have teamed up with Lapio and Human Tagging to provide this level of timing to the LA Triathlon at Torrance Beach. We look forward to future collaborations." said Sönke Petersen, CEO, race result.
"When developing our software, accuracy of timing has always been our main priority but product adaptability is second. As the market changes, compatibility with the most cutting edge technology is a must. We are happy to be able to work with race result and Human Tagging to offer our customers superior hardware that not only meets but exceeds their race needs." said Klaus Preisler, Founder, Lapio, Inc.
"It's an honor to see HuTags used at prestigious events like the LA Triathlon at Torrance Beach. We are committed to manufacturing quality tags that enable partners like Lapio and race result to in turn provide the best results possible" said Edward Yabsley, CEO, Human Tagging.
Click here to view results from the LA Triathlon at Torrance Beach:
https://app.lap.io/event/2015-los-angeles-triathlon/results
ABOUT LAPIO, INC.
Lapio is the go to software solution for race organizers and timers who want to provide awesome race experiences for participants and spectators. Our software combines race management, live streamed results, social engagement, photo sharing, and mobile into one, easy-to-use, integrated solution. We are passionate about endurance racing and passionate about technology with innovation at the heart of our solutions.  Headquartered in San Francisco, Lapio software has timed nearly 3,000 races and more than 900,000 participants worldwide. For more information, visit www.lapio.com or email hey@lap.io.
ABOUT race result
race result creates world class timing equipment, trusted by event professionals at thousands of races each year around the globe. Engineered and built in the heart of Germany's technology region, our systems are designed for rock solid dependability, unbeatable precision, industry leading detection rates, quick setup, and live streaming results data. USA Headquarters in Boulder, Colorado. For more information, visit raceresult.com or email info@raceresult.com.