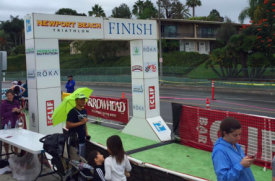 SAN FRANCISCO – November 19, 2015 – Lapio, Inc. providing powerful race timing software complete with live, accurate results, delivered world-class timing accuracy at the Newport Beach triathlon using Lapio software, race result hardware and Human Tagging RFID HuTag.
The Newport Beach Triathlon, produced by Pacific Sports, offers 3 distances including the Sprint, Super Sprint and Youth triathlons. Setup consisted of 5 timing points including 2 different start locations.  The race was timed using Lapio software and race result hardware was used to collect the chip times from HuTag XC-1 RFID tags. The team timed 591 finishers and recorded 2995 splits with over 99.99% accuracy. Lapio provided real-time data with the results streaming live within seconds of participants crossing the finish line. Results were instantly available to participants and spectators at the event, online and through social media.
"Our timing software is hardware agnostic; meaning that it's compatible with many different hardware solutions. Lapio streams the data from the timing hardware online, in real-time, creating the ultimate race experience for participants and spectators. We partnered with race result hardware because of their reputation for accurate and quality data. Together with Lapio software, it's a powerful combination of timing technology." said Klaus Preisler, Founder, Lapio, Inc.
"We are proud of our hardware and the ability to provide Lapio with accurate timing data that not only meets but exceeds industry standards. Being able to present that data in a way that's not only accurate but also engaging is a must. Lapio understand this and delivers a cutting edge solution. We look forward to what's next." said Sönke Petersen, CEO, race result.
Click here to view results from the Newport Beach Triathlon:
https://app.lap.io/event/2015-newport-beach-triathlon/results
ABOUT LAPIO, INC.
Lapio is the go to software solution for race organizers and timers who want to provide awesome race experiences for participants and spectators. Our software combines race management, live streamed results, social engagement, photo sharing and mobile into one, easy-to-use, integrated solution. We are passionate about endurance racing and passionate about technology with innovation at the heart of our solution.  Headquartered in San Francisco, Lapio software has timed nearly 3,000 races and more than 900,000 participants worldwide. For more information, visit www.lapio.com or email hey@lap.io.
ABOUT race result
race result creates world class timing equipment, trusted by event professionals at thousands of races each year around the globe. Engineered and built in the heart of Germany's technology region, our systems are designed for rock solid dependability, unbeatable precision, industry leading detection rates, quick setup, and live streaming results data. USA Headquarters in Boulder, Colorado. For more information, visit raceresult.com or email info@raceresult.com.